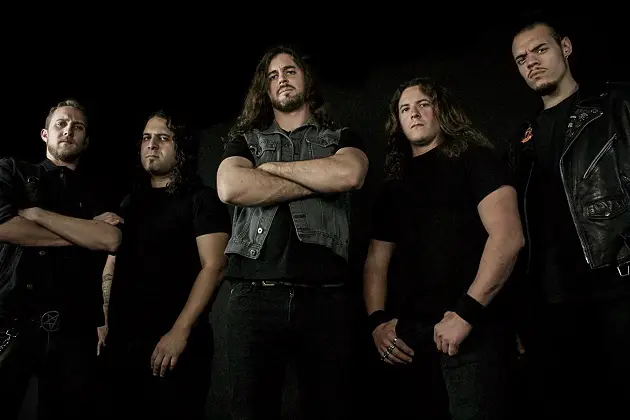 The highly anticipated WARBRINGER album "Woe to the Vanquished" will be released on March 31st 2017 via Napalm Records.
WARBRINGER released a music video for the track "Remain Violent" and you can watch it below.
"Woe to the Vanquished" was carefully crafted over a period of time, the album was produced and mixed by Mike Plottnikoff (Fear Factory, In Flames), mastered by Howie Weinberg (Slayer, Pantera) with cover art by the esteemed  Andreas Marschall (Sodom, Blind Guardian, Obituary).
Frontman John Kevill comments on the video:
"'Remain Violent' is a headbanging stomper of a track anchored around a really killer riff. Probably the most immediate and instantly memorable song off Woe to the Vanquished and sure to become a live favorite.The song deals with the increasingly militaristic behavior of the police in recent times, and the chorus line is a play on 'You have the right to remain silent.'Crank it up and bang your fucking head! Remain Violent!"
You can pre-order your copy of "Woe to the Vanquished" at the Napalm Records Webstore HERE.
"Woe to the Vanquished" will be available as:
– 1LP Gatefold Edition (black and other coloured editions)
– Regular Jewel Case Edition
– Super Deluxe Wooden Box Warchest Edition (CD, exclusive 2 track 7" single, flag, band logo dog tags) only available via the Napalm Records webstores in the US and Europe – strictly limited to 500 copies!