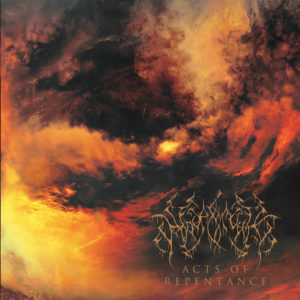 Don't get me wrong. I do like the vibe of modern Extreme Metal bands with their despair and anguish mixing emotions and bouncing cadence, tempo, and melody, but a band that mix old school Extreme Metal with all that is to hail. Wardaemonic in "Acts of Repentance" accepted the challenge of sounding modern with all the emotion and melody required and still pass the anger and wrath and rebellion all great Metal songs must have. "Acts of Repentance" is for the fan that misses the good old rage included in Black metal acts. Wardaemonic teach by the modern and the old book. Something to really praise.
The five tracks herein mix the aforementioned. All of them make the fan bang their head at large and at the same time make him reflect about the pathetic life in this sad and lonely and regretful planet. In some ways, Wardaemonic and "Acts of Repentance" remind a lot Venom and "At War with Satan" when the pioneer band started to mix those ingredients. Of course, it's not really the same. Remember that I said remind. But the intent is just the same. On second thought, the thematic goes near Iced Earth's "Dark Saga" except the charecter's history. More or less the same path. The thing is that Wardaemonic sound much more furious and ferocious with a neat instrumental. Pay close attention to the neat intro of "Act III – Castigation" to the violance drummer Maelstrom imposes to his drum kit and the epic effect he gets from it.  Not only the intro, but all the drumming he does in the song. A real killing machine blazing blasts all over the place. It's also impressive the way the guitars rise up the power following the same vibe of the drumming. "Act IV – Sufference" goes on the grip giving the fan the impression the title gives.
Though the fan might not have noticed, "Acts of Repentance" acts as a concept album with a logical sequence of themes. The songs are somewhat linked in concept and instrumental giving the impression of a true sequence to the fan. It's a very well-built album, if you ask me. My congrats to the band.
Wardaemonic  "Acts of Repentance" will be released on March 20th via Transcending Obscurity Records.
Track Listing:
Act I – Introspection
Act II – Admission
Act III – Castigation
Act IV – Sufferance
Act V – Repentance
Watch "Act II – Admission" official music video here: