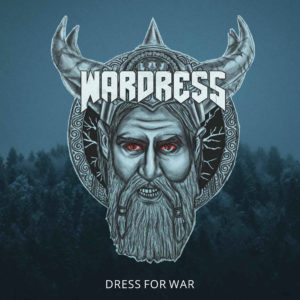 Modern Heavy Metal undoubtedly has many facets. One of them is this one Wardress with "Dress For War" show us. A facet of restless power and unarguibly faith and soul for our beloved genre. "Dress For War" is an album that reunites all the good and great stuff produced in the 1980s, and for that I really mean great stuff from bands like Accept, WASP, Omen, Savage Grace, among others. There is always a good place for a band that decides to join some melody to its music as Wardress themselves say in "Metal Melodies" – the first song I hear of a band dedicating their efforts to Metal melodies. Great melodies and strong emotions are redundant places Wardress like to visit in "Dress For War."
Bands as Wardress are working hard to give the good name back to this kind of Metal that for many reasons lost the train of History. Albums as "Dress For War" do their effort to erase a bad memory people got from what was once called "soft metal" and its commercialism that almost killed our beloved music. Well, to be frank, there is always a bright side because as a response to the commercialism many bands radicalized even more reaching new levels of power and heaviness that would be latter called Extreme Metal. But it's always a pleasure to listen a song so full of those big voices and extreme emotion as "Betrayal" and "Metal League" calling out all Metal warriors for the fight that is ready to begin. Heavy Metal is one of the genres – besides punk rock – that loves to call out its fans for battle.
"Dress For War" is an album for the ones who love Heavy Metal and all its cadences, and riffings, and moods, and vocals, and whatever because it revisits all of them in its ten tracks that are evething but monolithical. The echoes of its voices go very far until it reaches the great of the 1980s. Of course, for a band as Wardress – and for all Heavy Metal fans – this is a compliment. Songs as "Werhen" and its wall of sound make us proud of that era and of all bands that relive that golden age of Metal.
Wardress "Dress for War" was released on April 10th via FastBall Records.
Track Listing:
Prelude to War
Wardress
Thou Shalt Now Kill
Mad Raper
Metal Melodies
Dark Lord
Betrayal
Atrocity
Werhen
Metal League
Watch "Thou Shalt Now Kill" official music video here: