Warthrone, Virginia's premier symphonic black/death outfit featuring Erik Sayenga (ex-Dying Fetus, Witch-Hunt drummer) and Kristel (ex-Witch-Hunt, Dark Purity) have begun recording the new album "Crown of The Apocalypse" follow up to 2014's "Venomassacre" and will feature new members Jake Vanderband (ex-Deathcrown) on lead guitar and Kim Dylla (Fulton Ave., A Winter Lost, ex-GWAR) on vocals, replacing Richard Johnson who left the band to pursue other endeavors. "We have come to a mutual agreement that Richard Johnson will step away from vocal duties due to circumstances beyond our control, and we wish him the best" says Sayenga." We would like to welcome Jake Vanderband on lead guitar and Kim Dylla on vocals." Dylla is well known in the underground scene for her business Kylla Custom Rock Wear which creates custom clothing for many rock and metal bands as well as WWE superstars. She is a former member of Gwar, known as "Vulvatron". Crown of the Apocalypse will feature 9 new songs and is being tracked at the bands home studio (Ghoststorm Studios) in Virginia. Mixing and mastering will be done at Studio Salamone's (Crucifer, While Heaven Wept, Twisted Tower Dire) in Fredericksburg, Virginia. "Crown of the Apocalypse" is tentatively scheduled for a release summer of 2018.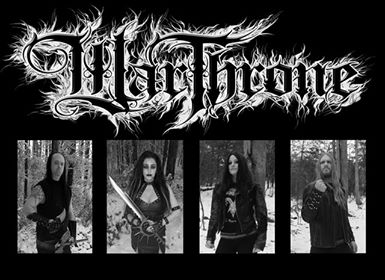 Warthrone from L to R are:
Erik Sayenga-Drums/guitars
Kristel -Keyboard/Bass  
Kim Dylla-Vocals
Jake Vanderband-Lead Guitars
You can check out more here.