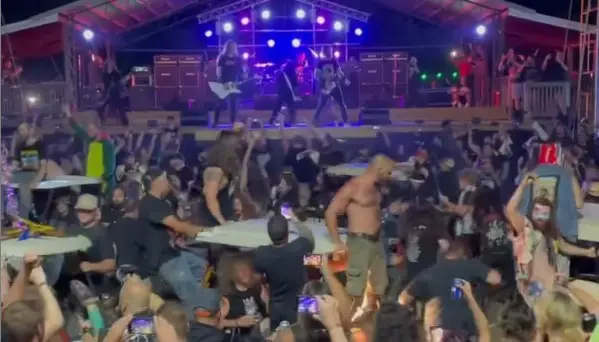 During EXODUS concert at Full Terror Assault Open Air 2021, while performing "The Toxic Waltz," several people from the crowd brought freaking golf carts into the pit. And yeah, it's amazing!
EXODUS guitarist Gary Holt share footage from this beautiful moment, with accompanied message: So what don't you see every day? A golf cart circle pit! Haha! We were told about these such occurrences, but when we hadn't seen one yet, by the time we played The Toxic Walt, it was also time to request one! Maybe they thought it was too crowded. NOT! Most fun epic, totally loose show we've played! Had some song hiccups here and there, but when it's this fun, who the f*ck cares!! @ftaopenair, it was an experience! Thanks! And look for the guy with the 12 pack carton in his head!"
You can watch footage below.
EXODUS will release new studio album, Persona Non Grata, on November 19 through Nuclear Blast Records. You can pre-order album via Amazon here.
When we think of the phrase Bonded By Blood, we think of two things: a brotherhood that is meant to outlast the trials of war, pain, and time… and the almighty EXODUS. With a bond forged in youth and decades-old friendship, the undisputed masters of thrash metal return with their eleventh studio album: PERSONA NON GRATA due to be released early fall 2021 via Nuclear Blast Records. Literally translating to "an unwelcome" or "unacceptable" person, PERSONA NON GRATA touches on themes of modern societal disgust and degradation. "The people that disgust you – cut 'em outlike cancer," explains guitarist Gary Holt. "Who is that person? It could be anybody. That's up to the listener. Who is 'Persona Non Grata' to them?"
The underlying irony for many of these songs is the need for unity. "As we were working on these songs, things started happening around the world that ended up tying into it all, and we didn't even know it! With the general divisiveness in the country today, and everyone being entitled to their opinions; I don't agree with a lot of them, but I'm not here to be a preacher, either. We want people to listen to the lyrics and come up with their own meanings."