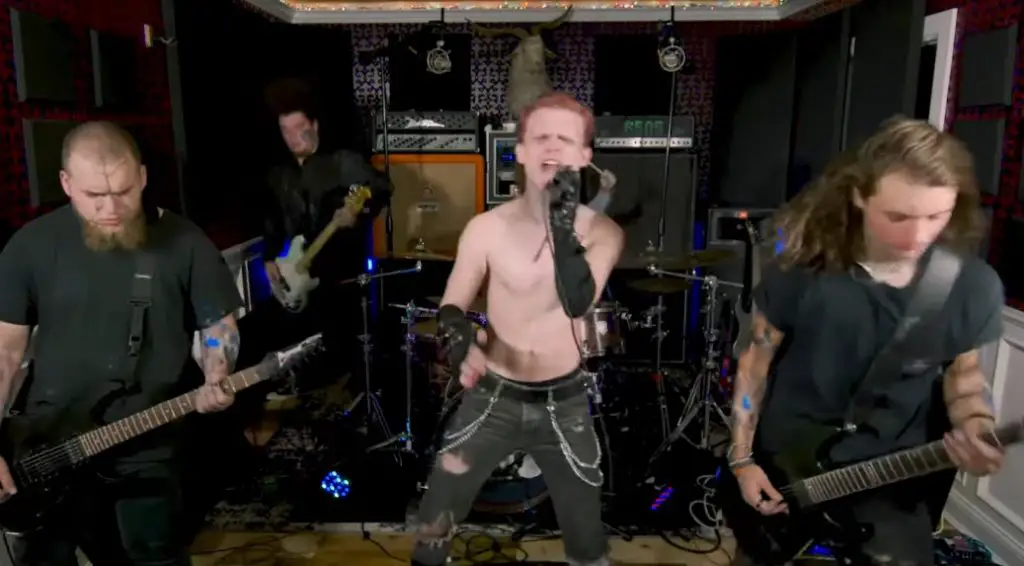 VENDED, the band fronted by Griffin Taylor, the son of SLIPKNOT singer Corey Taylor, played a short set at this past Friday's "Knotfest.com Presents: Pulse Of The Maggots Fest," a free online festival sponsored by ESP Guitars and presented by MusiCares, Ernie Ball and Rock Against Racism.
Hosted by Knotfest.com's very own Beez, Ryan J Downey and special guests, "Pulse Of The Maggots Fest" was comprised of three digital stages (the MusiCares stage, Rock Against Racism stage and ESP stage) with performances from 20 of the the most exciting up-and-coming artists.
The band also features Simon Crahan, the son of SLIPKNOT percussionist Shawn "Clown" Crahan.
VENDED made its live debut on in March this year at Vaudeville Mews in Des Moines, Iowa at a headlining show also featuring AWAKENING FORCE and FAULTMINE.
Earlier this year, Corey Taylor was asked if he finds it true that kids these days aren't interested in guitar-driven music and just want electronic beats.
"I know a ton of younger bands that play their own instruments, that play in-your-face rock," Corey said. "They're rebelling against what the rebellion was against us. So they're going back to basics in a lot of ways.
"Not to toot my son's horn too much, but his band, they're the real deal,"he added. "They were insane. I was at their first show, and there was no sampling, there was no nothing. They just came on and they just punched the sh*t out of the audience for 30 minutes. I was exhausted. They did it all on their own. And I think there's a whole new generation of fans coming up that are gonna do that."