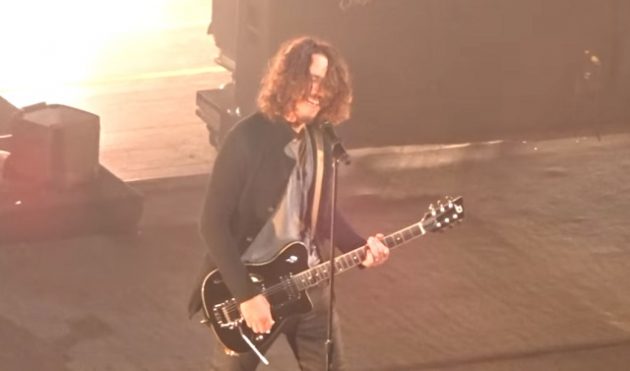 SOUNDGARDEN And AUDIOSLAVE frontman Chris Cornell has died at age 52 last night, May 17, in Detroit, just hours after a SOUNDGARDEN show at the Fox Theatre.
According to a report from local Detroit news site WXYZ, Chris Cornell's death appears to be a "possible suicide."
Police say Cornell's wife called a family friend and asked him to check on his well-being. The friend forced opened the door and found Cornell on the bathroom floor, according to police. Apparently, Cornell was pronounced dead on the scene.
In a statement to The Associated Press, Brian Bumbery says Cornell died today in Detroit. Bumbery called the death "sudden and unexpected" and said his wife and family were shocked by it.
The statement said the family would be working closely with the medical examiner to determine the cause and asked for privacy.
Cornell was known for his role as one of the architects of the 1990s grunge movement, for his extensive catalog as a songwriter and for his near four octave vocal range as well as his powerful vocal belting technique. He released four solo studio albums, Euphoria Morning (1999), Carry On (2007), Scream (2009), Higher Truth(2015) and the live album Songbook (2011). Cornell received a Golden Globe Award nomination for his song "The Keeper" which appeared in the film Machine Gun Preacher and co-wrote and performed the theme song to the James Bond film Casino Royale (2006), "You Know My Name".
Below you can watch fan-filmed footage from Chris Cornell's last show with SOUNDGARDEN: