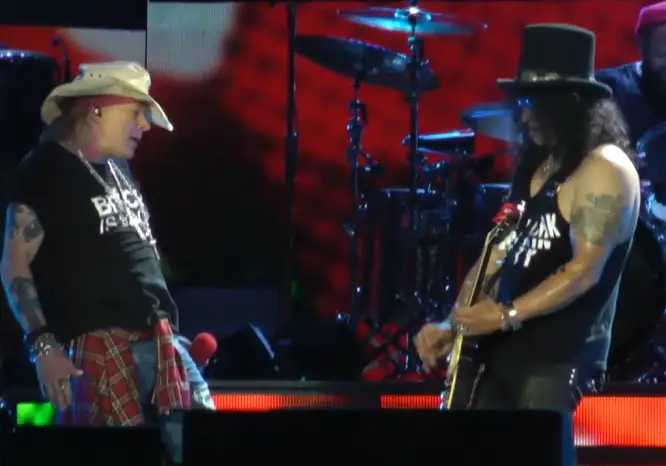 Below you can watch fan-filmed video footage of yesterday's GUNS N' ROSES show at MetLife Stadium in East Rutherford, New Jersey.
The band's setlist was as follows:
01. It's So Easy
02. Mr. Brownstone
03. Chinese Democracy
04. Welcome To The Jungle
05. Double Talkin' Jive
06. Estranged
07. Live And Let Die (WINGS cover)
08. Rocket Queen
09. You Could Be Mine
10. Attitude (MISFITS cover)
11. This I Love
12. Civil War
13. Coma
14. Speak Softly Love (Love Theme From "The Godfather") (ANDY WILLIAMS cover)
15. Sweet Child O' Mine
16. Better
17. Out Ta Get Me
18. Wish You Were Here (PINK FLOYD cover)
19. November Rain
20. Knockin' On Heaven's Door (BOB DYLAN cover)
21. Nightrain
Encore:
22. Patience
23. The Seeker (THE WHO cover)
24. Paradise City
GUNS N' ROSES are set to go South for the fall with the most anticipated live performance event of the century adding dates in South America, announced today!  October is a good month to be a Guns fan with eight dates including Argentina, Brazil, Peru, Chile and Colombia, and more to come, routing below and onsale information to be announced soon.
Confirmed dates are as follows:
Oct. 27 – Lima, Peru – Estadio Monumental
Oct. 29 – Santiago, Chile – Estadio Nacional
Nov. 04 – Buenos Aires, Argentina – River Plate Stadium
Nov. 08 – Porto Alegre, Brazil – Estadio Beira-Rio
Nov. 11 – Sao Paulo, Brazil – Allianz Parque
Nov. 15 – Curitiba, Brazil – Pedreira Paulo Leminski
Nov. 18 – Rio de Janeiro, Brazil – [to be announced]
Nov. 20 – Brasilia, Brazil – Estadio Nacional
Nov. 23 – Medellin, Colombia – Estadio Atanasio Girardot
Nov. 26 – San José, Costa Rica – Estadio Nacional