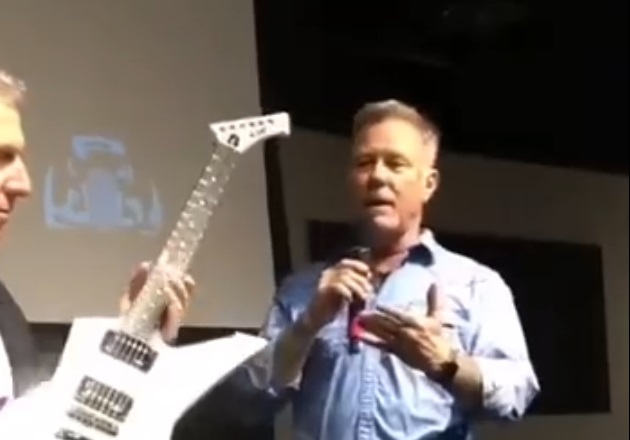 METALLICA frontman James Hetfield made his first major public appearance since entering rehab last night (January 30), when an exhibit featuring 10 of his classic custom cars opened with a ticketed reception at the Petersen Automotive Museum in Los Angeles.
Some video footage and several photos from the exhibit can be seen below.
Starting February 1, Hetfield's cars, a number of guitars, photos and memorabilia will be on the floor of the venue in the museum's Bruce Meyer Family Gallery until October.
Hetfield's collection, includes Voodoo Priest, based on a '37 Lincoln Zephyr, a '36 Auburn roadster named Slow Burn, a Delahaye inspired '34 Packard, Aquarius, a '36 Ford in bare metal called Iron Fist, a purple '56 Ford F-100 pickup truck, and three cars by custom fabricator Rick Dore: Black Pearl, a custom 1948 Jaguar, a '52 Olds named Grinch, and Skyscraper, a 1953 Buick Skylark.
This marked Hetfield's first public appearance since last fall when METALLICA postponed announced tour of Australia and New Zealand as James re-entersd a treatment program to work on his recovery from alcohol addiction.