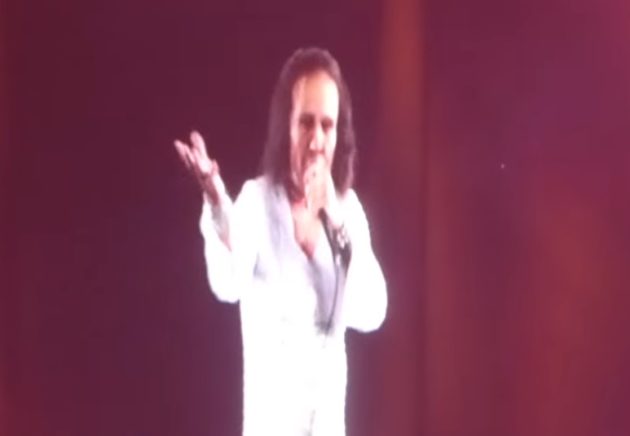 "Dio Returns: The World Tour" — featuring Ronnie James Dio reuniting via hologram with his DIO bandmates — played its ninth show on December 20th at Poppodium 013 in Tilburg, Netherlands. The Ronnie hologram performed throughout the show, treating fans to an alternating setlist that featured songs such as "Rainbow In The Dark", "King Of Rock And Roll", "Man On The Silver Mountain", "Heaven And Hell", "Holy Diver" and more. Fan-filmed video footage can be seen below.
The "Dio Returns" tour features Ronnie's actual live vocals, with the DIO band playing live, consisting of Craig Goldy on guitar, Simon Wright on drums and Scott Warren on keyboards, along with Bjorn Englen on bass. Veteran metal vocalist Tim "Ripper" Owens (JUDAS PRIEST) is also performing, with singer Oni Logan (LYNCH MOB) also joining on select dates.
The hologram of Ronnie James Dio made its debut at last year's Wacken Open Air festival in Germany. The surprise appearance of the heavy metal icon during DIO DISCIPLES' set closed out the massive metal event which was attended by more than 75,000 fans.