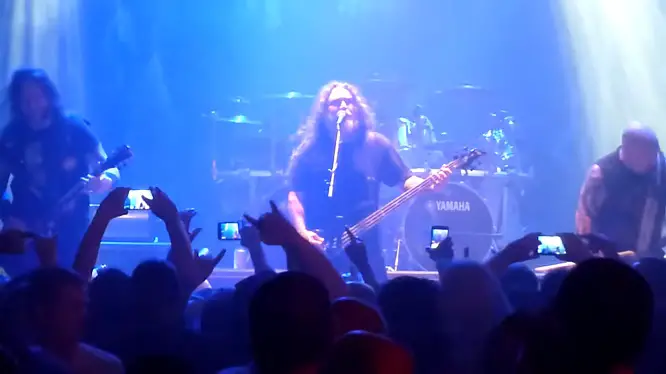 SLAYER performed on San Diego Comic-Con International (SDCC) at the intimate-capacity House Of Blues on Thursday, July 21st. Fan-filmed video footage can be seen below.
Said SLAYER's Kerry King, "Comic-Con?!? I can't believe they are gonna let us shred the HOB San Diego!! It will definitely be a night of fury and intensity that the city won't soon forget. We will be coming off a seven week European run, so Slayer's guns will be blazing!"
The band's setlist was as follows:
01. Repentless
02. Disciple
03. Postmortem
04. Hate Worldwide
05. War Ensemble
06. When The Stillness Comes
07. You Against You
08. Mandatory Suicide
09. Fight Till Death
10. Dead Skin Mask
11. Die By The Sword
12. The Antichrist
13. Born Of Fire
14. Seasons In The Abyss
15. South Of Heaven
16. Raining Blood
17. Black Magic
18. Angel Of Death
SLAYER's latest album, "Repentless", was released on September 11, 2015, and is the first Slayer album to feature guitarist Gary Holt ofEXODUS and the first to feature drummer Paul Bostaph since 2001's God Hates Us All. Repentless is alsoSLAYER's first album following the death of Jeff Hanneman in 2013, and the band's first album to be released on Nuclear Blast.