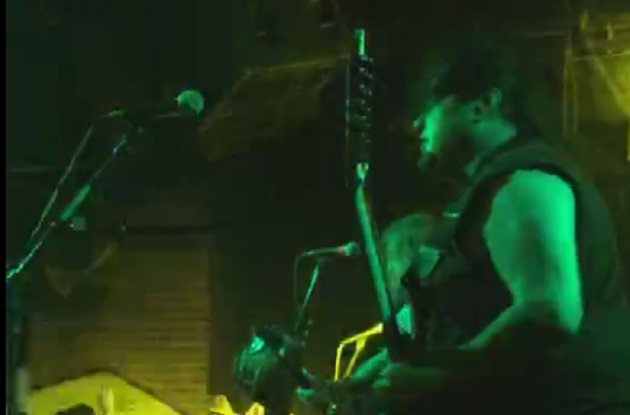 Last night, SOULFLY kicked their U.S. tour at Launchpad in Albuquerque, New Mexico. Joining the band for select dates are NIVIANE and SUICIDE PUPPETS.
This was SOULFLY's first performance with FEAR FACTORY guitarist Dino Cazares who is replacing Marc Rizzo, after he departed from the band recently. Video footage from the show can be seen below.
In a recent interview with Heavy New York, Max Cavalera said about Dino's addition to SOULFLY: "I'm hugely inspired and excited and happy that Dino is doing this with us. Dino is an old friend. Our friendship goes back to the early days of SEPULTURA coming to America. I believe we met on the Beneath The Remains tour. For sure by the Arise tour we were friends. He tells the story better, but he had to wrestle me [over] the [FEAR FACTORY] demo tape that had 'Big God' on it. I loved it. I was listening to it on his Walkman. I didn't wanna give it back to him. And it was his only copy. And we had to wrestle. He finally got it out of me.
"But I ended up bugging [then-Roadrunner Records A&R executive] Monte Conner at that time and saying, 'You're a fool if you don't sign this band.' I think I even called them 'the future of metal' at that time. I was, like, 'This is the future of metal.' If you pass on it, you're a fool. And then Monte signed them, and the rest is history, as they say."
"That's why this link, this possibility, the situation that happened and we needed somebody to fill in, I couldn't think of a better person than Dino — musically and as a friend," Max continued. "'Cause we're still very hurt, mostly from the stuff that Rizzo has been saying [in the press] — it hurts us a lot. And it's good to have a friend that you could talk about it. And then musically I think it's insane. To think of songs, especially the songs that have crunchy guitars, I close my eyes and I imagine Dino's sound on some of those songs, like 'Downstroy' and 'Babylon'… 'Cause there's a lot of chugging — SOULFLY always had chugging. But Dino is a whole another level of chugging. [Laughs]"