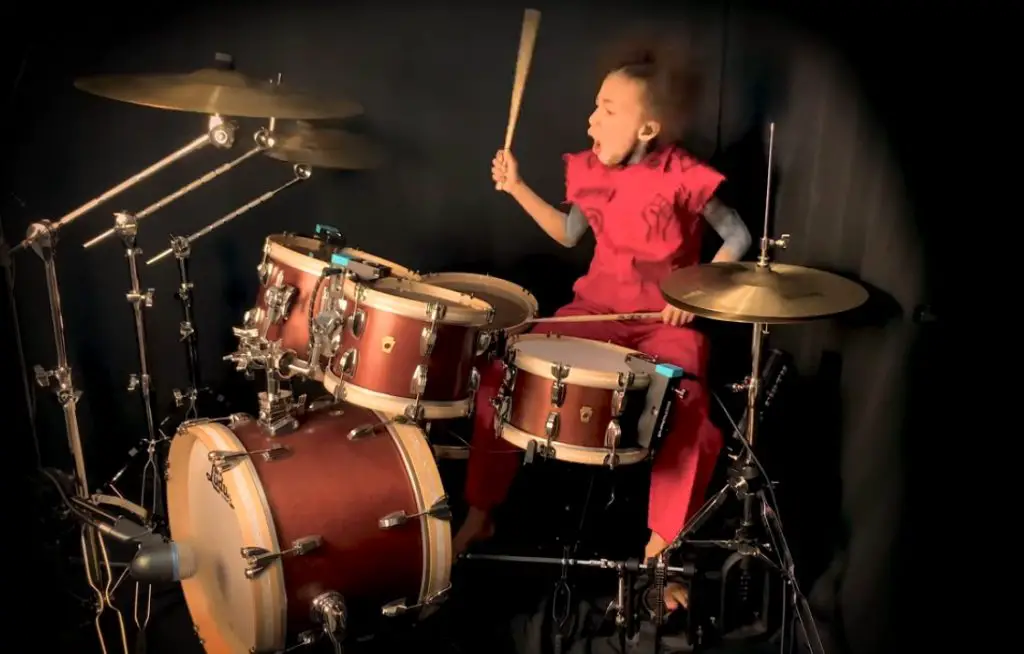 10-year-old music prodigy Nandi Bushell, who recently defeated Dave Grohl in a drum-off, has uploaded a video of her playing along to SLIPKNOT's "Unsainted."
She wrote along the video: "Yes! I am a total metal head! I love how awesome the drumming is in SLIPKNOT! This is my first attempt at double pedals! Taking my playing to the next level. This song is called I 'Unstainted' by SLIPKNOT! Incredible drumming Jay Weinberg! This song brings my A game Corey Taylor #metalhead #metal #heavymetal #doublepedals. Thank you Ludwig Drums my new kits is sounding awesome! Zildjian Company Vicfirth Drum Sticks Roland #roland #vicfirth #zildjian #ludwig #zildjianfamily #zildjiancovers".
Several hours after the video is posted, Weinberg retweeted the video with following message: "Nandi!! You're unreal! I'm blown away by your passion and energy. Keep shredding on those drums! Next time we roll through your town, give me a shout — you gotta show me how you do that stick flip right there."
SLIPKNOT's "Unsainted" single was recently certified gold by the RIAA (Recording Industry Association Of America) on October 7 for accumulating 500,000 certified units.
One equivalent song unit is equal to a single digital song sale, or 150 on-demand audio and/or video streams, according to the RIAA.
"Unsainted" is taken from SLIPKNOT's latest album, We Are Not Your Kind, which was released on August 9, 2019 via Roadrunner Records. Album was once again recorded at a Los Angeles studio with producer Greg Fidelman, who engineered and mixed SLIPKNOT's 2004 album Vol. 3: (The Subliminal Verses) and helmed 2014's .5: The Gray Chapter.
We Are Not Your Kind sold 118,000 equivalent album units in the U.S. in its first week of release to land at position No. 1 on the Billboard 200 chart. Furthermore, the album made an impact worldwide with No. 1 debuts in the United Kingdom, Mexico, Australia, Canada, Japan, Ireland, Belgium, Portugal and Finland, as well as Top 5 debuts in Germany, France, Norway, Italy, Austria, Sweden, Switzerland, The Netherlands, Poland, Spain and New Zealand.