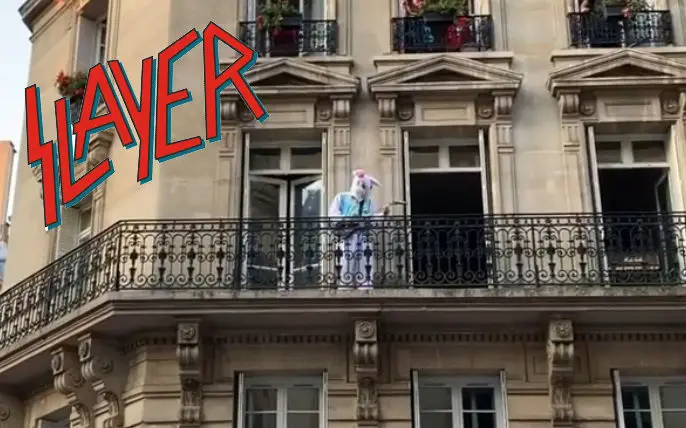 As reported over the course of last month, residents in many European countries have been singing songs and playing instruments from their windows and balconies amid the country's continued coronavirus lockdown.
Several videos surfaced online with people all over the world singing in unision with their neighbours, blasting music on full volume, or just playing their instruments.
One such video is a guy dressed as Easter Bunny and goes by the name "Rock Bunny" and is playing SLAYER's "South of Heaven" on his balcony in Paris, France amid coronavirus lockdown. You can check out the video below.
The pandemic's global death toll has reached over 160,000, while the global number of cases has surpassed 2,300,000, according to the WHO, which is the health agency of the United Nations.
SLAYER played its final show of their farewell tour last November at the Forum in Los Angeles. One day later, Kerry's wife, Ayesha King, said that there is "not a chance in hell" that the thrash metal icons will reunite for more shows.
SLAYER's longtime manager Rick Sales spoke about the band's decision to embark on its farewell tour in a new interview with MassLive.com.
"The band has always had a lot of integrity," he said, adding that "there are a couple things that go on. I totally get that they made a decision to stop touring. That doesn't mean the end of the band. It's just the end of touring. I always thought of it as, 'You go out on top.' They made that decision. They're not milking it. From that standpoint, I get it and they made the right choice."
Kristen Mulderig, who works with SLAYER's management company, Rick Sales Entertainment Group, says there will still be more stuff from the band in the future.
"We're in legacy mode. which is a lot to do, even though they won't be making records or on the road. They still have their endorsers, there's still merch and branding to do — sync licenses and who knows? Maybe coming up with some sort of event that is SLAYER-based. This is all stuff we're thinking about and talking about. SLAYER lives on, absolutely."