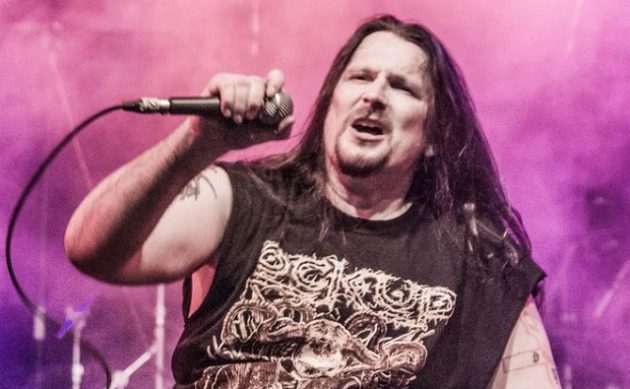 POSSESSED frontman Jeff Becerra was interviewed by Antihero Magazine's Matt Mills after the band's performance at this year's Bloodstock Open Air festival, which was held August 9-12 at Catton Hall, Walton-On-Trent, West Midlands, United Kingdom. You can listen to the full interview below. A few excerpts follow (as transcribed by Blabbermouth.net).

On the never-ending debate on who can lay claim to being the first "true" death metal band: DEATH or POSSESSED:
Jeff: "Here's the story: Between [pre-DEATH outfit] MANTAS and the first DEATH album [1987's 'Scream Bloody Gore'], [DEATH leader] Chuck [Schuldiner] moved out to our fan club president's house to be around us. He's quoted in countless magazines that POSSESSED is his primary influence. His album came out two years after 'Seven Churches', which was written in '82/'83. Chuck was a very dear friend of mine. We used to sit and talk, we were the best of friends. And, so he was heavily influenced by POSSESSED. He was proud of that. He's quoted on that many times. In fact, people started calling DEATH 'POSSESSED clones' so much that he distanced himself a little bit and started saying 'I don't even play death metal. I play progressive metal.' The funny thing is, ironically enough, if Chuck were alive today, he wouldn't want to be called 'death metal,' he'd want to be called 'progressive metal.' I remember Chuck coming up to me after 'Scream Bloody Gore' saying 'This just might sound like you.' He was proud of that and I was proud of him and we were friends. I loved him. I'm not trying to take anything away from DEATH, because they're f*cking awesome. I think that they were influenced by POSSESSED, but they ran with it and went in their own direction and created their own vibe. They don't need to claim anything, but DEATH is DEATH. They're a fantastic band and fantastic musicians and fantastic friends. I just wish he was alive today so we could collaborate. To go a step further: Chuck used ['80s death/thrash producer] Randy Burns, who did 'Seven Churches' to do 'Scream Bloody Gore', his first album. He also did a cover of [POSSESSED's] 'The Exorcist'."
On whether the 1980s Bay Area metal scene felt like a "movement":
Jeff: "It very much did. Yes. There was a magic happening in the air back then. I'm seeing the same kind of flow happening again. I mean, with grunge, it seemed like death metal almost became a joke. It almost died. Now to see it back and flourishing and it's so alive and well. It's just f*cking great. I was actually worried in the '90s that death metal would just disappear. Now that it's alive and well, it's f*cking awesome."
On whether nu metal bands such as KORN and LIMP BIZKIT got under his skin:
Jeff: "I appreciate all art, all music. I think that everyone's entitled to play whatever they want. You know, that's their thing and they were good at it. I play my genre, they play their genre. The world would be a pretty f*cking boring place if there was only one genre. I love all art."
On why death metal continues to survive:
Jeff: "I think death metal is a lifestyle. I think people take pride in being death metalheads. I think there's something core and primal about it that people really relate to. I think that exists in every art. But, I couldn't tell you any more than that we love it and that's our thing."
On the status of the band's new studio album, which will be their first full-length album since 1986's "Beyond The Gates":
Jeff: "I think you're going to hear some really f*cking good death metal, man. I'm really happy with a lot of the tracks. I'm still writing in the process; I'm writing a lot of music, writing all of the lyrics, of course. I'm also collaborating with [new POSSESSED members] Daniel [Gonzalez, guitar] and Claudeous [Creamer, guitar]. We're working together hard to create something that we really like. We're hoping that translates well to other people and beyond. We're hoping people like it. If they don't, then f*ck them."
On the musical direction of POSSESSED's forthcoming new album:
Jeff: "Well, it's me. I'm still me. I would say…it's very POSSESSED-y, but it's not so dated. I think as much as I love the first three albums, they're a little dated, so we're trying to bring it back into this century. We're not going to over-produce it or do anything but straight death metal. It's just what I want to play and what the band wants to play. We're really enjoying ourselves. So far, the demos went over really well."
Fans can expect POSSESSED's first a full-length release in 31 years, sometime in 2018.