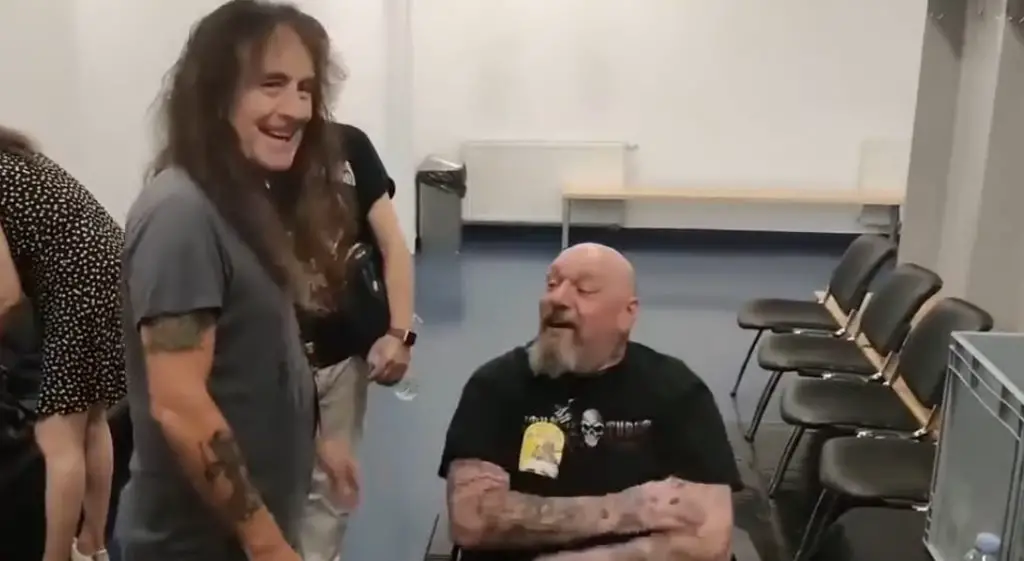 This past May, former IRON MAIDEN singer Paul Di'Anno met MAIDEN bassist Steve Harris for the first time in three decades before the band's concert in Croatia.
Di'Anno stayed to watch some of MAIDEN's performance after his chat with Harris before leaving near the end so he wouldn't get stuck in traffic.
In a new interview with Sakis Fragos of Greece's Rock Hard magazine, Di'Anno was asked why he would take the time to meet with Harris and Smallwood when he had been critical of the two of them in the past, referring to Smallwood as "Rod Smallwallet" and comparing Steve to Adolf Hitler.
"I never called [Rod] Rod Smallwallet. A journalist called him Rod Smallwallet, and we thought it was all funny, so everybody in IRON MAIDEN called him that, 'cause it used to piss him off. So that's the end of that one," Di'Anno responded.
"I did call Steve Hitler once. [Laughs] Because of the way he runs [the band]," Paul explained. "It's like a f**king army. He's so focused. And I couldn't think of another one person to [compare him to]. I said 'Hitler' [but] I didn't mean it in that way."
When asked if looking back on the circumstances that led to his departure from MAIDEN has given him any clarity as to whether or not it had something to do with his vocal performance, Paul said: "My record stands for itself. I've played more shows than IRON MAIDEN have ever played… They play a lot of concerts, but I played a hell of a lot more than they ever had. So it was nothing to do with my voice. It was nothing to do with that. I was just upset about certain things, which were private things in the band. And the way I dealt with them maybe was not right, but I dealt with them. And that's the end of it. And that's as much as I'm gonna say."
On whether it's true that he wasn't properly compensated for his work on the first two IRON MAIDEN albums, Paul said: "I have nothing to comment on that at all, because, to be honest with you, it's nobody's damn business. I got paid very well. I'm very happy with that. See, if I try to say, 'Oh, IRON MAIDEN didn't pay me enough money,' it's a bad reflection on IRON MAIDEN. And I'm not taking that. I got paid very well. They looked after me. End of story."
Di'Anno performed on two classic albums with IRON MAIDEN — a self-titled effort in 1980 and Killers in 1981 — before being fired and replaced by Bruce Dickinson.