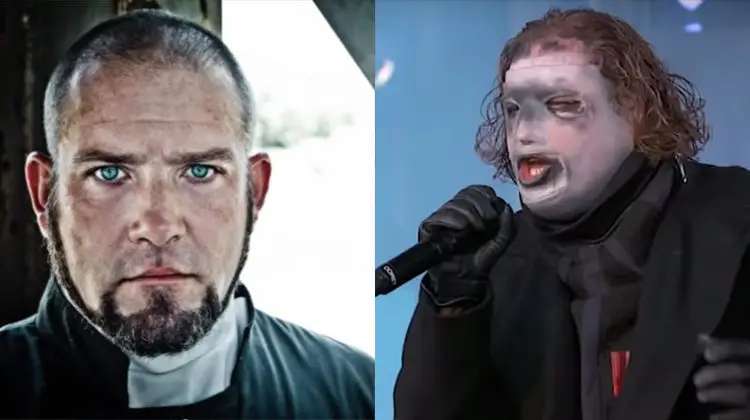 During a recent appearance on Good Company With Bowling, SLIPKNOT frontman Corey Taylor looked back on band's early days and joining the knot in 1997.
Prior to joining SLIPKNOT, Corey was in STONE SOUR for about five years since the group was launched in 1992. Prior to Corey's arrival, the band was fronted by Anders Colsefni between the 1995 and 1997.
When asked for how long he knew SLIPKNOT co-founder Shawn "Clown" Crahan before joining the group, Corey responded: "I've known him since about '95 — I knew him for a couple of years before I actually joined the band."
"They had a guy named Andy [Colsefni] and he was great," he continued. Great singer, great growler. For what he did, he was really, really good. But they wanted somebody who could do a little more, and I was kind of like the other big dog in town. Because I had STONE SOUR then, so we actually did shows together — SLIPKNOT and STONE SOUR."
Asked if there is any footage of those shows, Corey said: "I'm sure there is. I want to say there's footage from my ex-best friends Denny's birthday, it was like the day right before his birthday that we did a show together. And then we all kind of went to this thing that in legend has become known as 'the house destruction party' where a lot of people went to jail.
"It was in a good way," he added. "And the first time I really talked to Clown was when we were both going down to bail people out who had been arrested. It was pretty rad. We're standing there, just waiting to pay bail and he goes, 'Crazy night, huh?' I was like, 'Yeah.' And the funny thing is I was there and I left about 15 minutes before the place got raided so I barely got away.
"Dude, I woke up — and when I say 'house destruction party,' it was a house destruction party. I had plaster in my hair, I looked like I had dreads because they were ripping this house down."
You can watch full interview below.
SLIPKNOT's latest album, We Are Not Your Kind, was released on August 9, 2019 via Roadrunner Records. Album was once again recorded at a Los Angeles studio with producer Greg Fidelman, who engineered and mixed SLIPKNOT's 2004 album Vol. 3: (The Subliminal Verses) and helmed 2014's .5: The Gray Chapter.
We Are Not Your Kind sold 118,000 equivalent album units in the U.S. in its first week of release to land at position No. 1 on the Billboard 200 chart. Furthermore, the album made an impact worldwide with No. 1 debuts in the United Kingdom, Mexico, Australia, Canada, Japan, Ireland, Belgium, Portugal and Finland, as well as Top 5 debuts in Germany, France, Norway, Italy, Austria, Sweden, Switzerland, The Netherlands, Poland, Spain and New Zealand.