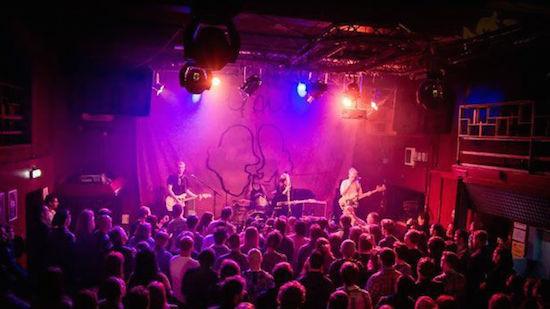 Before being catapulted to world fame The Beatles could be heard regularly at The Cavern Club. A small, unassuming music venue in the centre of Liverpool. Well before selling out Maine Road, Liam Gallagher's distinctive voice could be heard at tiny music venues all over Manchester.
The intimate gigs were a rite of passage for bands. Playing small, often acoustically poor venues gave some of the world's greatest bands a unique learning experience. In the modern day however it's getting harder and harder to find a small music venue.
Below we take a look at some of the reasons why small music venues are on the decline.
Social Media
Lilly Allen wasn't the best singer of her generation, but she was certainly the most unique. Instead of being picked up by a label after a gig, Lilly Allen was spotted on MySpace – the precursor to Facebook.
At the time that was a massive news story. The music industry had found someone that would have otherwise fallen off the radar. Social media had come to the aide of the music industry. However that was bad news for small live music venues.
More and more people decided to follow Lilly Allen's path and gradually less and less bands were cutting their teeth at intimate music venues hoping to be spotted by a label agent.
Streaming
Alongside the creation of the iPod, streaming had a big impact on small music venues. Prior to the widespread use of music streaming sites and iPods it wasn't particularly easy to try out new music.
Buying an album was always a gamble. You'd heard one or two songs by your favourite band so bought their latest album, but you could easily end up hating the other 10 songs on the album.
Going to see a band live would be the best way to find out if you liked their music. It was also an amazing experience, such was the lack of exposure to non-radio music. Streaming has not only made music more accessible and less of a unique experience for listeners.
It has also led to more selectivity amongst listeners. Listening to one band on repeat is an ancient idea nowadays, everyone has a Spotify playlist with hundreds of different artists on it.
Changing trends
In the last two decades there has been a distinct lack of any good, authentic bands in the UK. BritPop was great whilst it lasted but it seems that as a country, we used up all of our musical talent at once.
Synthetic pop is the staple of the British music industry now, and whilst it does have its appeal, it's not suited to small music venues. Neither are other music styles that rely on synthesisers, backing tracks or 'guest' artists.