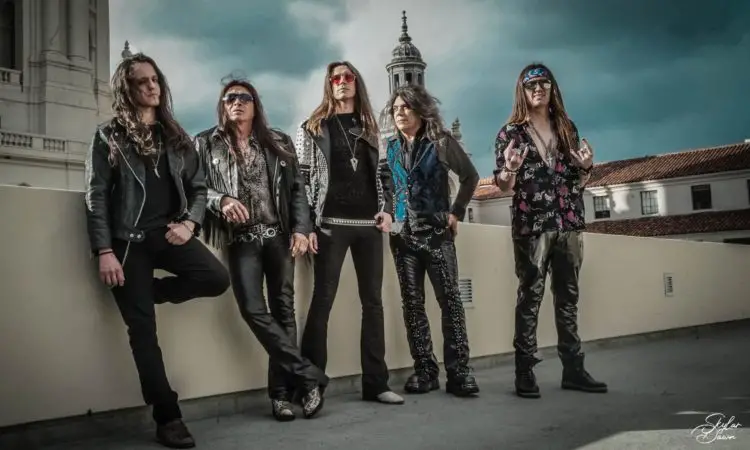 The band was launched in 2015 and have gone through several line-up changes but through it all they have garnered some International success having played in South America in 2015- Argentina, Brazil & Uruguay and then returned again in 2016 to do 3 shows in Buenos Aires, Argentina- with the highlight of the tour being a sold out show at the Roxy on May 24, 2016- with WIKKID STARR opening up for fellow American Jeff Scott Soto.
The band has established a loyal following in Argentina and other parts of South America- Brazil, Uruguay, Peru and Chile. Europe, Australia, South Africa, Canada and of course the U.S.A
Since 2015, the band has opened up for many National Acts which include: Autograph, Y&T, Dokken, Great White, L.A. Guns, Bullet Boys, Bang Tango, Vixen, Vain, Pretty Boy Floyd, Faster Pussycat, Enuff Z' Nuff, Jeff Scott Soto, etc.
WIKKID STARR also played a summer show in July of 2019 with fellow American Hair Metal Acts: Salems Lot & Wildstreet showcasing the new talent and new breed of American Hair Metal. WIKKID STARR then headed to New York in the early part of August 2019 and did 3 consecutive shows (2 in Upstate and 1 in Queens @ Blackthorn 51) before heading back home to L.A. to open up for L.A. GUNS and then a separate show with DOKKEN before headlining their own show November of 2109 @ The Whisky in Hollywood, CA.
The 2020 year started off with a bang with a sold-out show at the Whisky on January 25, 2020 w/ Bang Tango and then COVID-19 hit and took the wind out of their sails. All of the momentum that the band had built up in the summer of 2019 and beginning of 2020, was decimated.
On a positive note, the band did sign with Lions Pride Records out of Denmark and will be releasing their 3rd album on the Lions Pride Label with a release date of April 29, 2022.The new album will be called: "Return to Glory."
WIKKID STARR had a great schedule of shows planned for 2020 but because of the pandemic, all of the shows were canceled and some postponed- before they too were eventually cancelled. The scheduled show on October 16, 2020 with Nelson @ The Whisky in Hollywood, CA. and a show with Dokken @ The Canyon in Montclair, CA. sometime in November of 2020 were both canceled. Shows with Great White, L.A. Guns, Y&T and Dio's Disciples were also cancelled.
WIKKID STARR did play a LIVE STREAM @ The Whisky on Sunday September 27, 2020. There Livestream attracted an International Audience and the band was able to expand their following as a result of the livestream.
The 2021 season was supposed to open up with two gigs that were postponed from 2020 and added to the 2021 calendar but again, they were cancelled due to COVID cases spiking up in the Los Angeles area. WIKKID STARR were supposed to open up for VAIN on February 26, 2021 @ The Whisky and then play 8 days later on March 6th @ the Canyon in Montclair, CA. opening up for Kingdom Come & XYZ, which would have been a great show but unfortunately, it got cancelled as well.
The band has won two awards from the New Wave of Hair Metal site for videos that they made for: Get it, Got it, Good (Collision Course album) and Hot Love, which will be featured on the SUDDEN IMPACT album. GGG won a Silver Award- # 2 Video Single, for the month of June 2019. Then in October of 2019 WIKKID STARR won the # 3 Video Single Bronze Award- for their sleazy song Hot Love.
The band just released their new video on Christmas Eve- December 24, 2020 for their new song Bring It On, off the "SUDDEN IMPACT" album, which will feature English model- Kate Tickle and her famous producer / engineer husband- David Tickle. Who has worked with Joe Cocker, The Divinyls, 4 Non-Blondes, Splitz Enz, Prince, etc
The band has also started writing new material for their third album- RETURN TO GLORY. According to Richards and guitarist Kyle Kaye, they have written 5 new songs with new drummer Sergio Sanchez and guitarist Rafa Souza, who both hail from Brazil.
WIKKID STARR are still looking to play some festivals in Europe, since plans to play in Germany in August of 2020, were completely ruined by COVID-19.  Australia, New Zealand, Japan, Canada, South Africa and a return trip to South America are all places that the band is targeting to perform- once things go back to normal.
Collison Course contained 3 hits- KARMA, FEED ME & GGG. The album was engineered and co/ produced by Bill Krodel (Don Dokken, Gilby Clarke, Great White, Bullet Boys, Ratt) who unfortunately passed away from cancer before the album was completed. Co/Founder Ashlyn Childs (Suicide Alley, Darling Dead) went missing in action for personal reasons, which created a dilemma for Richards. Through it all, Richards focused on completing the album and in the end, pulled through to make it happen and launched the WIKKID STARR project. Childs, Richards and drummer David Raven (Keith Richards, Slash, Nora Jones) collaborated on 3 songs but then Richards collaborated with other musicians such as drummer Richie Rivera (Janet Gardner, Vixen), flamenco guitarist Giorgio De Lamus Bankells, Gutterboys guitarist, Brian Abretski (RIP) and German brothers- Marcus Plattner (Guitar) and Drummer / Keyboardist- Andy Plattner (Kashmyr). Richards turned to Engineer & Friend Raphael Di Giorgio to help him finish the Collision Course album and the end result was a good one.
The band is hungry and on the verge of breaking out. It would be wise for promoters to get them booked on major festivals NOW before someone notices and snatches them up. Their original sleazy Hair Metal is contagious and fun to listen to. The band hails from the Pasadena area of Los Angeles, the same city that iconic legends Van Halen were from.
WIKKID STARR can be summed up as being a Modern-Day American Hair Metal Band.
The music is youthful, contagious, energetic and fun..!!
The new album "SUDDEN IMPACT" has 12 new original songs and packs a whallop..!!  If you like sleazy, Hair Metal- you are going to love the new WIKKID STARR release "SUDDEN IMPACT." The new album was engineered by George Wiederkehr and co/produced by George Wiederkehr & Toney Richards.
WIKKID STARR are scheduled to do a LIVE STREAM from The Whisky on Sunday February 21, 2021 @ 4pm PST in Los Angeles. Make sure to check it out- as the band performs their second LIVE STREAM in a 5-month period. They will also be performing new material from the SUDDEN IMPACT album.
New videos for Pump House, Betty Sue, Rock Till The End, All Hell's Breaking Loose and Partners in Life are planned for the upcoming year 2021 and beyond- so stay tuned..!!
The official release date for the new WIKKID STARR album "Sudden Impact," is scheduled for January 25, 2021. The album is currently available for digital download on Amazon, Apple Music, Spotify, Google Music, i-Tunes, CD Baby, etc.
Read our review here.