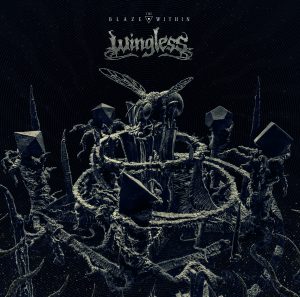 Boys and girls, I proudly present you Wingless! Keep this name in your minds: Wingless. This power trio will, forgive me for the joke, fly away with "The Blaze Within". If you may, I'd suggest you to begin the appreciation with "The Hours Of My Rest", the seventh track. This track has a sabbathish feeling that made me shriver. Wingless could perfectly emulate that feeling that a lot try, but a few could. I'd take that as a huge compliment.
But there's more! Yes, there is. I'll almost forgive them for having no guitar solos in "The Blaze Within". Shame on you, guys! Just kidding. Wingless' songwriting provided so good songs that solos weren't needed. There are no feelings that something is missing. The opening track "Non Serviam" has so many tempos ups and downs, and so diverse atmosphere that it's impossible to believe that it's only 3:51 minutes. The best is its deceiving beginning that makes you think Wingless is an extreme metal band. They're not. There are some dashes of it, but definately not. And how about the drums' pace? So different, almost military. For the record, the bass takes the lead. Second best of "The Blaze Within".
Now let me talk about singer Olaf Różański. Man, it's been some real time that I don't hear an skilled singer like this. Pure passion and technique. The guy really knows how to sing diversely. He gives un an splendid class of how to make each track different. Listen to "Victory Hotel" to see what I'm talking about. From the most candid, to the most utterly. Wingless and Olaf Różański are truly out of the box.
Track Listing:
Non Serviam
A Blaze Within
Great Shineless Brightness
Unheard Sublime
Victory Hotel
Reap What You Have Sown
The Hours Of My Rest
Descend
Jerk Me Off [bonus track]
Wingless are available at Bandcamp. Click here to get a download.
Watch "Descend" official video here: