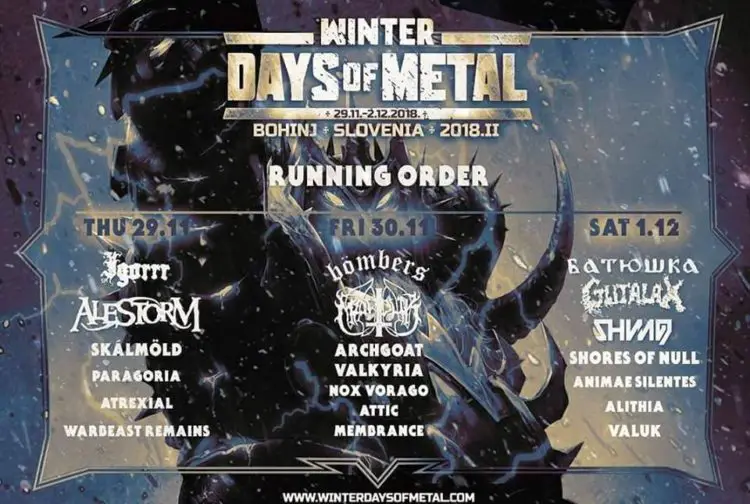 As previously ALPHA OMEGA Management announced, three of its roster bands, ATREXIAL, NOX VORAGO and ANIMAE SILENTES, will play the second edition in 2018 of "Winter Days of Metal" Festival, taking place on November 29th – December 1st, 2018, in Slovenia! Now the organizers have unveiled the running order. ATREXIAL go on stage on Thursday, November 29th, NOX VORAGO on Friday, November 30th and ANIMAE SILENTES on Saturday, December 1st.
"Winter Days of Metal" Festival Line up is: ALESTORM, MARDUK, BATUSHKA, SHINING, IGORRR, GUTALAX, BOMBERS, VALKYRIA, SHORES OF NULL, SKÁLMÖLD, ARCHGOAT, PARAGORIA, ATTIC, ALITHIA, ATREXIAL, NOX VORAGO, ANIMAE SILENTES, WARBEAST REMAINS, MEMBRANCE, VALUK.
For more information, check out the event page.