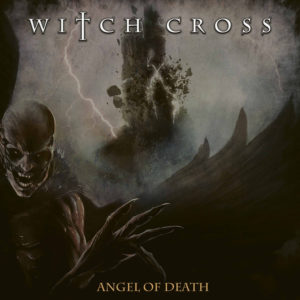 It's funny how things work. Just the other I was reviewing a NWOBHM band with its Classic Metal touch and I said that it's amazing how many bands and fans are still embracing this fantastic music. Now I receive this Witch Cross with "Angel of Death" which delivers a different kind of Classic Metal. Witch Cross explores the Epic Metal as bands as Legendry and the great and seminal Manilla Road, a band that inspired all that scene. Here inspiring melodies are mixed with powerful choruses and strong guitar riffing and lyrics about the power and the glory of the warrior. All of this is present here in an album that sweats swords and daggers and the spirit of the warrior.
"Angel of Death" gets the fan by the guts from the start with intro "Tempus Mori Est" with the church bell and the chantings embellished by a nice acoustic guitar. Following, and tittle, track "Angel of Death" delivers an exciting mooding with a dazzlying riffing and instrumentals that remind a lot of the great Accept. Vocals are amazing and melodic, not exactly in that order. The melodic guitars kind of follow the vocals creating a powerful aura around the song. Amazing and enthralling mood and atmosphere the song brings. By the way, Witch Cross's thing is exactly the way they build up their melodies. Kev Moore's nasal and strictly personal voice fits perfectly with the intent the band wants to pass. It's not that often that we have the pleasure of hearing such a personal voice. They are kind of rare in Metal world and as time goes by the get even more rare. I have to say that I miss a lot this in Metal music. I mean, the fantastic ability that Metal had of bringing us so personal voices. I dare to say that the music Witch Cross do is the perfect match of Manilla Road vocals with Accept instrumentals. This idea crossed my mind listening to "Evil Eye" whose instrumentals reminded me a lot of Accept.
Witch Cross created a very intense mood here in "Angel of Death." It's impossible not to notice that all this intense and scorching music comes from a band that is the real deal as Witch Cross debut album "Fit for Fight" was released in 1984. The twin melodic guitars tell no lies. The combination the band does here of the power and melodic is a killer I must say. An album to slowly enjoy.
Witch Cross "Angel of Death" will be released on June 11th via High Roller Records.
Track Listing:
Tempus Mori Est
Angel of Death
Marauders
Evil Eye
The Chosen One
Phoenix Fire
Siren's Song
Eye of the Storm
Last Rites
Warrior
Watch "Phoenix Fire" official video here: