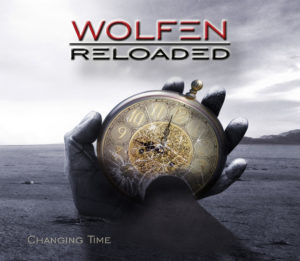 There is nothing like a decade and a half hiatus to rejuvenate a band. Born off the deep melodic riffs of Dokken and Queensryche, Wolfen Reloaded originally formed as Wolfen in the mid-1980s. It was then that Wolfen became one of the top acts in the Bavarian region of Germany. Unfortunately, due to various reasons the band called it quits in 1996.
Although, 13 years later three of the original four band members would reunite under the name Wolfen Reloaded Project. Since 2009, the band has toured extensively. They have opened for fellow hard rock acts Bonfire and Thunder. Their services have also been offered as a support band for Geoff Tate.
Wofen Reloaded played at many festivals in order to grow their dedicated fan base and develop their sound. They finally scored some studio time recently and have laid down their new album, Changing Time, which opens a new chapter in the band's history.
The album opens with "Amazing," which is a great way to describe this album. "Promised Land" follows with some great guitar work from Wolfgang Forstner. His solo on this song is one of the highlights of the album. The sixth song on the album, "Tomorrow Never Comes," is my personal favorite. Bassist Thomas Rackl lays down a great bassline and the drumming is near perfect for this genre. "Cyber Nation" also features a neat bassline and is a classic song off the release. "New Horizon" is the most musically advanced song on the album and closes the release well.
Changing Time is a melodic hard rock thriller that fans of Deep Purple, King's X, and UFO will love. Speaking of UFO, the vocals of Wolfen Reloaded's Christian Freimoser sound a lot like Phil Mogg's from UFO's latest albums. The drumming from Manuel Wimmer must also be commended. He is the band's newest member, but shines his talents out the best.
Changing Time was released on June 22, 2018 through Volcano Records.
Track listing:
Amazing
Promised Land
All the heroes
A million faces
Frozen
Tomorrow never comes
Judgement Day
All hope is lost
Cyber Nation
New Horizon​