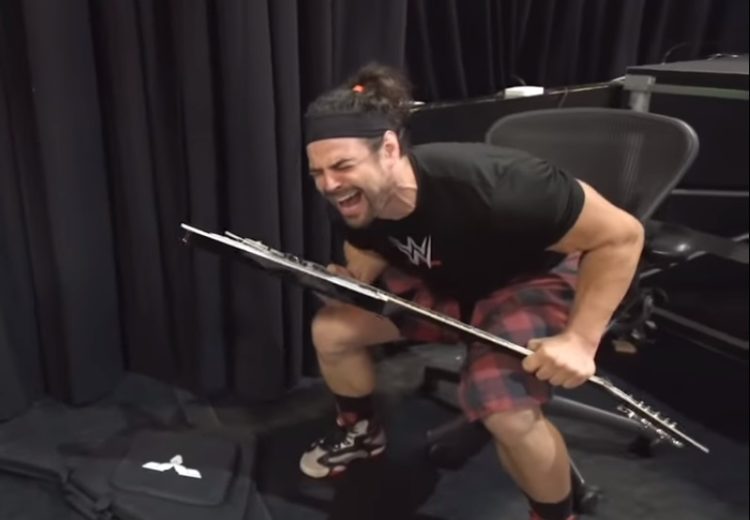 WWE NXT Superstar Rik Bugez got a Christmas present on latest edition of Loudwire's Gear Factor.
He received an Epiphone V guitar by non other than a JUDAS PRIEST axeman Richie Faulkner.
In the video below, you can see Rik as he tests guitar and play PRIEST classic "Victim of Changes."
Just in time for this holiday season, PRIEST frontman Rob Halford released an all-new album, entitled Celestial via Legacy Recordings.
Credited to Rob Halford with Family and Friends, the album mixes holiday classics with all-new compositions, and will appeal to lovers of traditional holiday music and headbangers alike.
"The great thing about heavy metal is it's got these kinds of multiple dimensions," explains the man also known as the Metal God. "I think when you look at it from an outside point of view – if you're not really familiar with the metal scene – it can look pretty intimidating. And it is a very strong, powerful experience. But it comes at different levels. I think the music that we've made on Celestial, for example, gives a display of that. Metal maniacs – as we call ourselves – are just as ready for the holidays as everybody else. And what we've tried to do with this music is to reach out to as many of those metal dimensions as we possibly can."
And judging from the "Rob Halford with Family and Friends" banner, Celestial sees Halford joined by a supporting cast of those very close to him – his brother (Nigel) on drums, his nephew on bass (Alex, son of PRIEST bassist Ian Hill), has sister (Sue) on bells, and twin guitar tandem of Robert Jones and Jon Blakey.