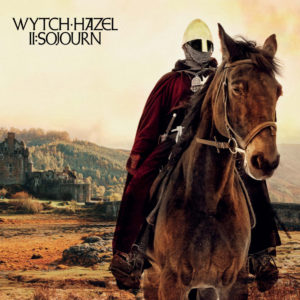 This world of music keeps in an eternal come and go. Musical trends just appear and vanish in high speed. Years ago I read a newspaper article where the thesis defended was that the 1960s and 1970s were so great that we weren't able to follow all the great music made back than. It explains a little why so many comes and goes. Maybe that explains why Metal is also going through a phase of recovery. Some may say today's music isn't that great, so musicians look to the past to get inspired. Flat wrong. In Metal they have always done so. Metal musicians have always been inspired by the great bands that preceded them. Anyway, the music done these days in Metal is as great as the past's. When it comes to pop… Well, let's jump this one.
Wytch Hazel with "II: Soujorn" take us in a time travel. By the way, Wytch Hazel is a great name. It sounds like music. Their music reminds a lot the great Saracen in "Heroes, Saints and Fools" era, a band that was able to mix art rock and 1980's Metal with some dexterity. Songs with lots of emotion and melody with some dash of a harsh and bitter attitude. Dire Straits are also a good remembrance. Songs flow easily. Choruses pop up in the right timing with the perfect phrasal construction. The same for guitar phrases and riffing that smoothly cover and embellish songs like "See My Demons" with its catchy chorus. The title "II: Soujorn" explains a lot about Wytch Hazel and their music. "Barrow Hill" tastes so much like Uriah Heep as Wytch Hazel taste as a long gone music. Sounds, not only ghosts, of the past sometimes haunt us.
"II: Soujorn" is full of remarkable tunes. Wytch Hazel did their best to write delightful pieces as "Victory" and "Angel Take Me" which are pure remembrances of all the good music did in the past. But their pro is to make us not forget of the present. Wytch Hazel have a foot strongly firm in the present as the dissonances in "Chorale" makes us believe.
Wytch Hazel "II: Soujorn" will be released on September 21st via Bad Omen Records/RidingEasy.
Track Listing:
The Devil Is Here
Save My Life
Still We Fight
Wait on the Wind
See My Demons
Barrow Hill
Chorale
Slaves to Righteousness
Victory
Angel Take Me
Watch "Save My Life" video here: