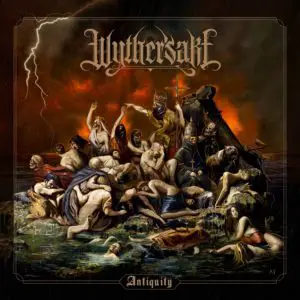 From the beginning Metal music has always had a flair for the grand, the epic. And this flair is getting more and more present. The urge to show something that impacts the fan got urgent into Metal bands from all styles. Add this to intense use of Classical music features which is another style that loves the grand. This union has given lots of intense and groundbreaker outcomes. It seems that the use of Classical music features into Extreme Metal makes it even more extreme for the tension it creates and sometimes it isn't solved into the song. This is exactly what Wythersake with "Antiquity" delivers to the fan. An album full of energy and unsolved tensions embellished by a wondrous and monstrous instrumental.
"Antiquity" sounds as the musical version of an octopussy with all the musical tentacles trying to grab the fan. Those tentacles are the many layers and textures Wythersake built in the album and in each track. No track is absolutely similar to the other. Speaking of it, the only similariry the tracks have is that they don't any similarity. There are so many comes and goes in the album that they make it difficult even to label the band. Sometimes Brutal Death Metal, sometimes Symphonic Metal, sometimes Melodic Black Metal. Wythersake seem to make a trip through Metal styles and features in order to please the fan with the best emotion that would fit in that particular moment of the song. In a way, Wythersake came onboard of Therion's ship. But this comparison doesn't satisfy at all the feeling while listening to "Antiquity." However, it helps showing the fan an act that inspired truely the band.
The sequence of "Prediluvian" and tittle track "Antiquity" gives the fan a completely different idea of what is to come. In the very first beginning I thought I was in front of a Funeral Doom Metal band. But I was flat wrong as the tracks rolled on. "Antiquity" is the album that embraces the fan and doesn't let him go for any circunstance. It's fun to follow the tracks and wonder what will come next. To wonder what kind of musical influence the band will bring in the next track. Wythersake built "Antiquity" up in a way that it got unpredictable. And unpredictable in this word of so predictable things is good. This is what the fan will find in tracks as "Feast Upon the Seraph Within" and all its changes of hearts and moodings and vocals.
For more Metal music as Wythersake did her with "Antiquity."
Wythersake "Antiquity" will be released on March 26th via Scarlet Records.
Track Listing:
Prediluvian
Antiquity
The Advent
From a Serpent Spoken
Iniquity
Through Ritual We Manifest
Lamentations
Feast Upon the Seraph Within
Unto Light
My Profane Goddess
Watch "Iniquity" lyric video here: