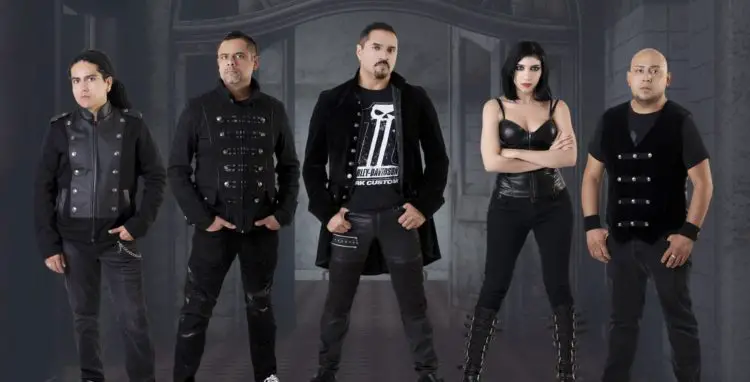 In 2015 Salvador Yeo, based in Tijuana México, in a city where culture is so rich because It is the most visited frontier in all the world with people from everywhere, five minutes from California (USA), he founded Yeos band along with Manolo Becerra (bass) and Deeunir García  (drums). These two are great musicians and well renowned by teaching music and studio musicians as well as Salvador Yeo, who is the composer of all songs of the album 'Azteca's Revenge' and as lead guitar player he has won international contests, likewise he has been renowned by different publications of some media, among them the Rolling Stone and Switch Magazines, as one of the best rock guitarist from Mexico. Besides, he has been producer and manager of great Latin artists like Marisela, Rocío Banquells, Ana Cirré, Maria del Sol, and others.
Originally, he had the idea of putting all the ingredients together in a single band; composition, great musicians, good musical arrangements, music genre as: symphonic, opera, heavy metal, instrumental with a lot of power and rhythm. Including other instruments like flutes, oboes, cellos, violas, violins, French horns, acoustic piano, timpani and more. In 2015 Cesar Marmolejo (rhythmic guitar), who was teaching music at UABC, joined the band to reinforce it and make it sound more powerful with two guitars on board.
At the beginning, the band was going to perform only instrumental rock music, but there was this song called 'Libertad', to which Salvador Yeo wanted to put some vocals and make it sound more like an Opera style song. For this reason, in 2016 he auditioned for a female singer and he found Ameyali Escobar who was the perfect singer for this music project, because she came to contribute and helped to define the line that marks Yeos' style of rocking; so when she joined the band in 2016, Salvador Yeo decided to create more songs for her voice and he made other four songs: "No Llores Más," "Humano Imperial" (with its English Version – "Imperial Men") "Amigo" and "En Tus Brazos." So, they went to the studio and finished recording this album "Azteca's Revenge," which comes with all these ideas that bring a different concept.
After all the process of recording and bringing out the album "Azteca's Revenge," launched on July 31st 2019 (Spanish version), the band started its tour all over México on October 5th, in cities like Ensenada, Tijuana, Tecate, and Mexicali.
In March 2020 they were to perform in front of 30,000 people in one of the most important rock festivals in Northern México (with international artists), which is called Fronterizo Fest.
Due to pandemic situation, they seek to reschedule their tour within Mexico (which was first scheduled for July 2020) for the month of April 2021, regarding the following cities: Mexico City, Puebla, Tlaxcala, Querétaro, Pachuca, and San Luis Potosí.
Later during this year, they went to the studio, to record their English version album "Azteca's Revenge," since they will start to promote it in the US and in Europe.
It is worth mentioning that at the release of Azteca's Revenge they have begun to attract the attention of international media, such as All Around Metal Magazine Italy, Powerplay and Fireworks From UK, as well as  Mautorland, Made In Metal, Los Mejores Rock from Spain, Cuartel Del Metal, Rolling Stone, Switch, among other important media from various countries like Colombia, Chile, Uruguay, Argentina, Honduras, USA, and especially from the Aztecs lands.
So this is just the beginning, because this (2021), Yeos Band is planning to release an album and a video with live symphonic orchestra (if we don't lock down again); plus the second album of which the band is working of the last details, and that will definitely open a different way to rock for the next generations.
In the middle of the current pandemic situation, Yeo's Band recorded a Stay-Home Video of the theme "Por los que murieron en vano," from the disc "Azteca's Revenge," which may be already found in digital platforms. The band will also be participating in a video for Latin America, with the aim of creating conscience to support children with cancer; this video is to be launched on September 22nd, 2020 (World Chronic Myeloid Leukemia Day). Additionally, the band has its new video from the album Azteca's Revenge (English version) "Imperial Men," for its launch in the US and Europe on Friday, July 23th , of the current year.

Band Line-Up:
Ameyali Escobar – vocals
Deeunir García – drums
Cesar Marmolejo – rhythm guitar
Manolo Becerra – base guitar
Salvador Yeo – lead guitar
Read our review here.