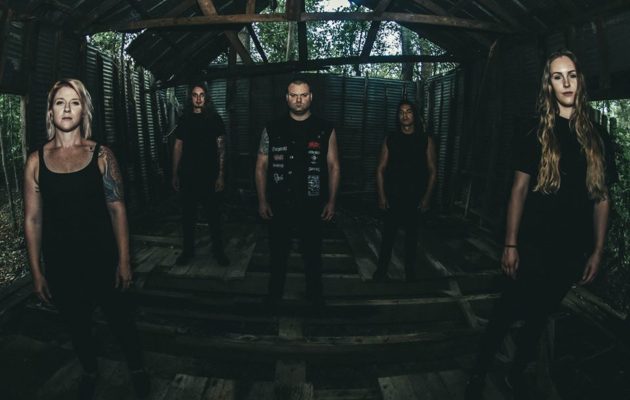 YOUR CHANCE TO DIE will he hitting the road on the "Defeating the Weak" tour in support of their third album "Ex Nihilo", which includes an appearance at Louisville Deathfest. "Ex Nihilo" was released on EMP LABEL GROUP's EMP UNDERGROUND imprint.
The critically-acclaimed album was recorded by Jamie King (Between the Buried and Me), mixed by Zack Ohren (Machine Head), and with album art by Pierre-Alain D. "Ex Nihilo" shows the band completely reinvented with deep symphonic atmospheres, inhuman precision and brutality, and a dual-female vocal onslaught. 2016 saw the addition of Som Pluijmers (ex-Cerebral Bore) on vocals, making her debut on "Ex-Nihilo", alongside revered death metal vocalist Missi Avila.
The dual-female front offers a tandem dose of sheer vocal brutality backed up by the soaring leads and rhythmic precision of Coca Avila and Ron Dalton on guitars. This package is rounded out by the inhuman speed and accuracy of drummer Thomas White.
The "Defeating the Weak" tour moves through the U.S. and Canada, and begins at the end of this month. Booked by Satellite Touring, the run includes stops at Louisville Deathfest and a night sponsored by the University of Wisconsin – Oshkosh Metal Club.
YOUR CHANCE TO DIE has toured with the likes of Origin, Wednesday 13, King Parrot, Arsonists Get all The Girls, Beyond Creation, and more. In late 2016, the band was direct support to Cryptopsy through Central America prior to hitting to the studio to record "Ex Nihilo". Check them out live on the "Defeating the Weak" tour, and stay up to date via the band's socials.
YOUR CHANCE TO DIE "Defeating The Weak" Tour Dates:
9/27 – West Columbia, SC @ New Brookland Tavern
9/29 – Louisville, KY @ Louisville Deathfest
10/1 – Kent, OH @ The Outpost
10/2 – Tonawanda, NY @ Stamps
10/3 – Toronto, ON @ The Coalition
10/4 – Ottawa, ON @ Mavericks
10/5 – Quebec City, QC @ L'Anti Bar & Spectacles
10/6 – Montreal, QC @ Piranha Bar
10/7 – Plattsburgh, NY @ Retro Live
10/8 – Providence, RI @ Alchemy
10/11 – Brooklyn, NY @ Gold Sounds
10/12 – Trenton, NJ @ Champs
10/14 – Richmond, VA @ McCormacks
10/19 – Barrington, IL @ Penny Road Pub
10/20 – Oshkosh, WI @ Titan Underground
10/21 – Greenville, SC @ Radio Room