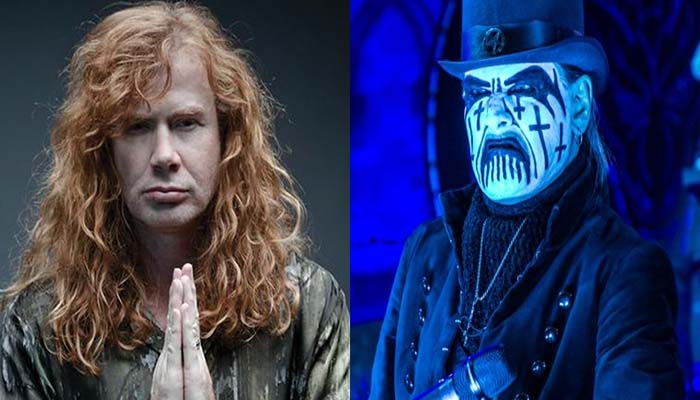 In a recent interview with Vita In Musica, legendary MERCYFUL FATE axeman Hank Shermann, who also played guitar for VOLBEAT on the band's 2012 U.S. tour, says that MEGADETH mainman Dave Mustaine did not allow King Diamond to perform with VOLBEAT during that year's Gigantour.
When the MEGADETH-headlined Gigantour came into King's adopted hometown of Dallas, Texas back in 2012, VOLBEAT asked King to join them on stage to perform the MERCYFUL FATE classic "Come To The Sabbath". "But, apparently, Dave Mustaine didn't want King to be onstage and do whatever Satanic lyrics, or whatever that was all about… So, King came to the concert and he was given the… he was told that, 'Hey, King, you're not allowed' from Mustaine, for some reason," Shermann told Alec Damiano of Vita In Musica (hear audio below).
VOLBEAT ended up playing the intro to "Come To The Sabbath", with King singing the lyrics from the audience.
"That was pretty funny," Shermann continued. "What that was all about, I really don't have a clue. I don't know if suddenly Mustaine had gotten into God, or, you know, for whatever reason. [Laughs] But that was pretty bizarre, you know, because back in the days, they were very good friends… MEGADETH were touring with [KING] DIAMOND in the '80s. So there's [been] a lot of changes in that band [MEGADETH]. But, you know, they're good guys… and I like them, and they have made some really cool records over time."