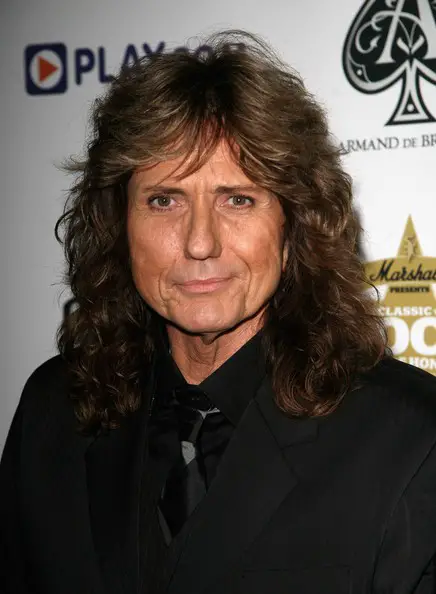 WHITESNAKE mainman David Coverdale has asked the band's fans for a little bit of patience as he completes the process of selecting a replacement for WHITESNAKE's recently departed guitarist Doug Aldrich.
Aldrich left WHITESNAKE on May 7, explaining in a statement that he "had several recording and live commitments, so [he] needed a more flexible schedule to conclude these before going full force as normal." He added: "Unfortunately, my schedule was not workable."
In a message on WHITESNAKE's official web site, Coverdale writes: "I see there's all kinds of interesting posts and some 'demands' about whom I should work with.
"As always, I sincerely thank you all for your generosity, but, with all due respect, I'll be making the decision who the band and I are going to work with.
"It's a very simple process. I guarantee it will be a very gifted guitarist who plays great and sings great, works well in a team, someone who appreciates WHITESNAKE music and a player whom we feel will help us take WHITESNAKE to the next level in as many ways as possible… without unnecessary distractions.
"I hope you can appreciate this fact.
"We've had an amazing array of exceptionally gifted musicians who have applied for the gig. Once again, we are in such awe that so many talented people want to play WHITESNAKE music with us.
"We're very close to making our decision and we'll let you all know when the time is right and hopefully, whomever it is, you will give them the same chance, the same support as you've given our new musicians before."
Coverdale also revealed that WHITESNAKE is "deep into the pre-production of the new WHITESNAKE project, which is so exciting to me, it's beyond words."
Aldrich played on the last two WHITESNAKE studio albums, 2008's "Good To Be Bad" and 2011's "Forevermore", and appeared on several live releases, including last year's "Made In Japan" and "Made In Britain/The World Records".
Dutch guitarist Adrian Vandenberg, who was a member of WHITESNAKE during the band's successful late 1980s period, recently told the classic rock program "Radio Fireball" about the possibility of rejoining WHITESNAKE: "Never say never. David and I will always do something in the future, whether it's with the two of us acoustically or whether it's a blues album or a rock album or a tour. We are too good friends not to do it and we have too much fun working together. But it has to be next to [Adrian's current project] VANDENBERG'S MOONKINGS, not instead of."
Source: Blabbermouth