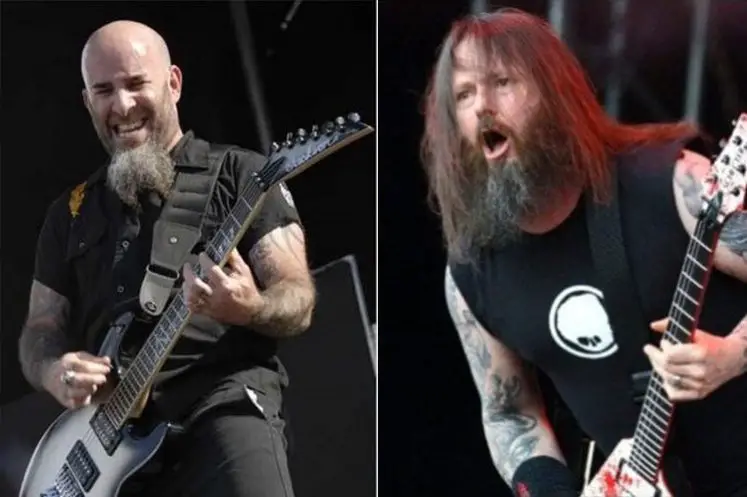 Thrash metal fans have long argued that the so-called "Big 4" bands should have been considered a "Big 5" instead, with Exodus joining the ranks of Megadeth, Metallica, Slayer and Anthrax. The iconic Californians, who started out in 1979, no longer contain any of the original band members, but they are still revered within the metal scene for their impact as pioneers of the Bay Area thrash metal era.
Anthrax co-founder Scott Ian recently spoke in glowing terms about Exodus' debut album, titled Bonded by Blood. Ian's belief that their debut album was better than any released by the "Big 4" is further proof of Exodus' metal legacy. The powerful debut album was released in 1985, produced by the band's manager Mark Whitaker. Ian took to his official Instagram account to praise the "beast" that is Bonded by Blood. Ian said: "Best debut album of the Big 5? I think so."
Bonded by Blood: Adored by fans, critics and peers alike
Bonded by Blood is not only a debut album that's respected by its thrash metal peers, it's also received significant critical acclaim through the years. AllMusic's Eduardo Rivadavia describes it as a "landmark album" that was "responsible for launching the thrash metal wave". Some would argue that this flies in the face of Rolling Stone's ranking of 45th in the top 100 metal albums of all time. Of the ten studio albums released by Exodus, Bonded by Blood is the only full-length LP containing Paul Baloff on vocals. During the thrash metal revival of the 2000s, the new-look Exodus paid homage to Bonded by Blood by re-recording the debut album, with drummer Tom Hunting and guitarist Gary Holt the only founding band members involved.
Exodus in line to feature in any future "Big 4" tours
The respect for Exodus from Scott Ian and Anthrax as a whole is underlined by their desire to include Exodus in any future "Big 4" tours. It's a view that is shared by Megadeth's Dave Mustaine, who was quizzed a few years ago about what would happen to future tours if Metallica opted not to feature. Mustaine intimated that all three "camps" (Megadeth, Slayer and Anthrax) "would probably say yes" to the idea of Exodus joining forces.
Of course, many of the "Big 4" have taken time out from touring in recent years, with Megadeth the only band to be actively touring in the last two years. In addition, Slayer disbanded in 2019. Anthrax's last major appearance was, ironically, opening for Slayer as part of their farewell tour. Anthrax and Scott Ian are no stranger to taking many years out between studio albums and tours. It was eight years between We've Come for You All and Worship Music in 2003 and 2011 respectively. It's also been five years already since their most recent album For All Kings in 2016.
One of the main reasons is that Scott Ian is a man that immerses himself in other passions away from music. A prime example was his decision to become a professional poker player for several years during some band downtime. He took down a celebrity poker tournament and subsequently received lessons from the pros before "diving in head-first" to take it more seriously. Poker tables contain all kinds of personalities, ranging from introverts to extroverts. Despite being a front man for a metal band, Ian was known to be more like a silent assassin at the tables, waiting patiently to strike with the utmost precision.
Anthrax is celebrating its 40th anniversary as a band in 2021 and is forging ahead with releasing episodes of a documentary honoring the band's illustrious career to date. Episode 4, titled "A New Hope – Armed and Dangerous" has been released this month. Anthrax drummer Charlie Benante has alluded to a string of surprises from the band to treat fans as part of their 40th anniversary celebrations. It's likely to include a string of songs the band has "probably never played before". As for Exodus, sad news regarding drummer Tom Hunting's battle with squamous cell carcinoma of the stomach has delayed the release of new album Persona Non Grata until November 2021 at the earliest.