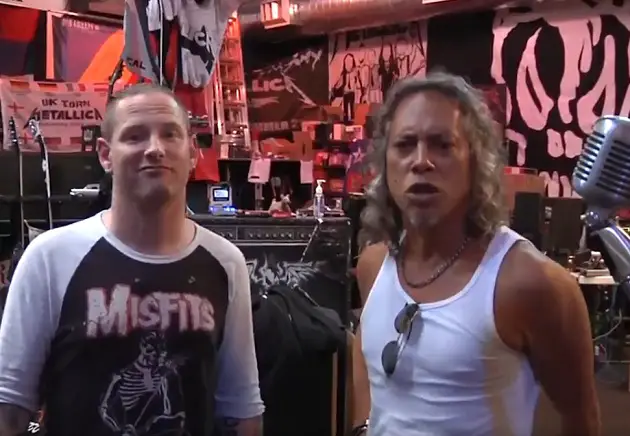 SLIPKNOT and STONE SOUR frontman Corey Taylor travelled to San Rafael, California in METALLICA's headquarters, is part of a 90-minute special about the band's new album, "Hardwired… To Self-Destruct", that aired on select radio stations around the country beginning this past Friday, November 18.
You can listen to the interview via SoundCloud widget below.
When asked by Taylor about the "sense of loneliness" and "loner vibe" in the single Atlas, Rise!, frontman James Hetfield responds: "I like what you said about the 'loner' thing. And there's a part of me that loves being a loner — just loves it, and craves it — and that whole lone-wolf attitude, it's just… it's so… I don't know… it's comforting. But then the other side of that is I've got the weight of the world on me, I have to do everything myself and I'm a martyr now and then I become a victim and all of this crap. So you're right when you say that loner part and the responsilibity around it too. I think that's kind of… you summed the song up."
Hardwired… to Self-Destruct was released as a double album on November 18, 2016 by their vanity record label Blackened Recordings. It is their first studio album in eight years following Death Magnetic (2008), marking the longest gap between two studio albums in the band's career. It is also their first studio album not to feature songwriting contributions from Kirk Hammett since he joined the band in 1983, and their first studio album released through Blackened.