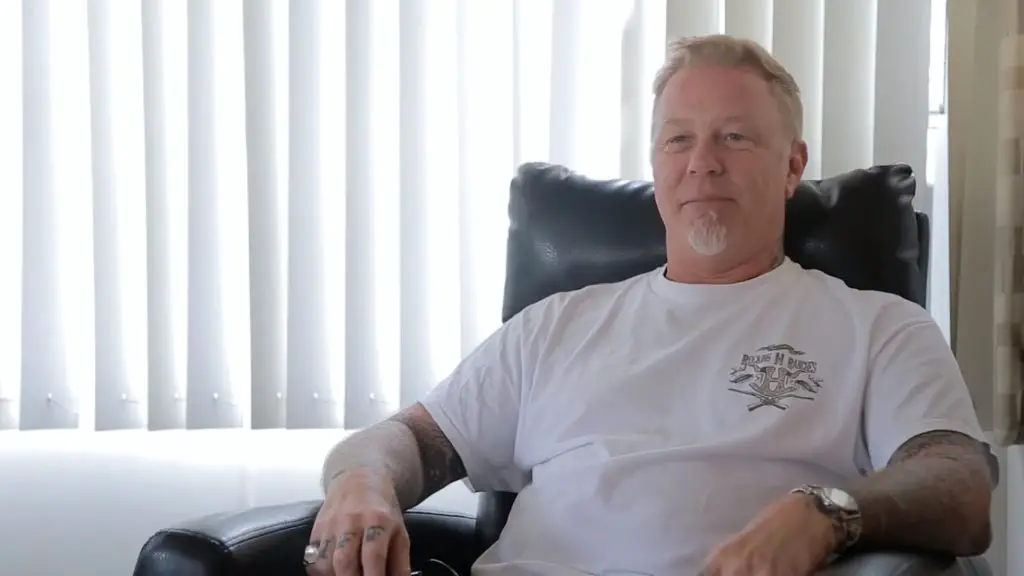 METALLICA frontman James Hetfield talked about the production of band's …And Justice For All album.
Asked in an interview with the METALLICA fan magazine So What! if Jason ever approached him and Lars to say that the bass was lower in the mix than he had expected, Hetfield said: "He probably did. I don't know what my answer was then, but it was kinda done. I mean, I will say, it was not all about, 'F*ck him. Let's turn him down.' That's for sure.
"We wanted the best-sounding record we could make. That was our goal. We were burnt. We were frigging fried. Going back and forth [between touring and mixing the album]. Playing a gig. No earplugs, no nothing. You go back into the studio, your hearing is shot. If your ears can't hear any high end anymore, you're gonna turn it up. So we're turning the high end up more and more and more and all of a sudden, low end's gone. So I know that played a bigger part than any hazing or any ill feelings towards Jason, for sure. We were fried. We were burnt."
Hetfield also addressed some of the criticism leveled at METALLICA by one of the "…And Justice For All" album mixers, Steve Thompson. In a 2015 interview with Ultimate Guitar, Thompson suggested that Ulrich was the culprit for the lack of any bass guitar on the record, claiming that Lars wanted his drums to sound a certain way — even if it meant cutting out the bass.
"We wanted it tight," James explained. "We wanted it f*cking tight. That's what we wanted. We wanted the snare, we wanted the guitar, we wanted everything up front and in your face and really tight. And we thought we got it. And, you know, we kinda know what we want to sound like. Can we sit behind a desk and make it happen? No. We ask people to do it, and they do it. So [Thompson] did his job. He's got nothing to apologize for or point fingers at. No one's to blame for 'something.' It is a piece of art. It happened and it ended up the way it is for a reason. And for reasons we were just talking about. We were burnt. We're traveling, we're playing a gig, our ears were fried. We were not sleeping. He doesn't need to defend himself. He was a part of an awesome album in history, so I think he should be maybe be a little easier on himself."
James also once again dismissed calls for METALLICA to remix "…And Justice For All" so that Newsted's contributions are more audible.
He said: "All this [bass discussion] is after the fact, and it's, like, who gives a sh*t, man, really? And why would you change that? Why would you change history? Why would you all of a sudden put bass on it? There is bass on it, but why would you remix an album? You can remaster it, yes, but why would you remix something and make it different? It'd be like… I don't know. Not that I'm comparing us to the Mona Lisa, but it's, like, 'Uh, can we make her smile a little better?!' You know?! Why?"
In April, guitarist Kirk Hammett has revealed that he has "a ton of material" written for next METALLICA album in a recent interview with Australia's Mixdown magazine.
He said: "When I was 13-14 years old, bands put out albums every year. Seriously, KISS put out an album every eight months. None of this eight years between albums.
"None of us are very comfortable with the fact it's been so long, because that is a long time," he continued. "We're hoping to avoid that this time around.
"We're in our third year since 'Hardwired'. Maybe we can get a bit more focus and go into the studio a bit sooner. I have a ton of material. I've over-compensated, so I'm ready to go anytime."
Also, METALLICA bassist Robert Trujillo said the band's next studio album would arrive "a lot sooner than the previous two did:
"This time around, I think we'll be able to jump on it a lot quicker and jump in the studio and start working. We've all vowed to get this one going sooner than later. Now, how soon? I don't know.
"We've been touring non-stop. It's been over two years now. At some point, sure, we'll need to take a little bit of a break. It's sort of the right thing for us to do because we've been going so hard."
METALLICA's latest album Hardwired… to Self-Destruct debuted at number one on the Billboard 200, selling 291,000 album-equivalent units in its first week, of which 282,000 were pure album sales. The remaining 9,000 units comprised 34,000 song purchases and 9.3 million streams. It was the third-largest debut of the year in the US on pure sales, behind Drake's Views and Beyoncé's Lemonade. 
The album slipped to number 3 on the Billboard 200 in its second week, selling 75,000 units, including 71,000 copies. Hardwired… to Self-Destruct was the best selling heavy metal album of 2016 in the US and seventh overall, with 516,000 copies sold by the end of December.