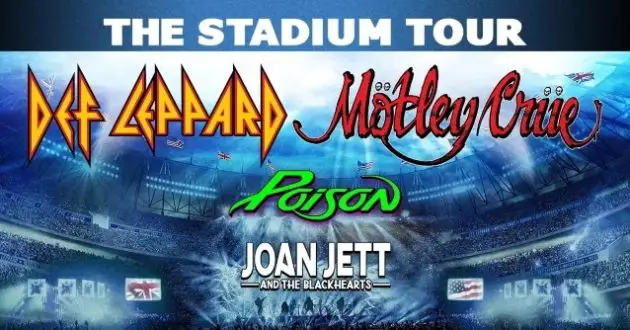 MÖTLEY CRÜE, DEF LEPPARD, POISON and JOAN JETT & THE BLACKHEARTS could be among many tour that will end cancelled and postponed due to coronavirus.
As heavy metal-themed publication Sleaze Roxx reported, "the tour is almost 100% cancelled."
As far as the MÖTLEY thing goes, my source has just gotten off the phone with his contact and the tour is almost 100% cancelled," source noted. Rehearsals at an unknown location in LA were supposed to happen in May. Those have been cancelled. Given the band's age and to quote the contact's words "declining ability", it may not even get rescheduled. Vince [Neil] had already lost in excess of 20 lbs.
"Sleaze Roxx has also been advised that MÖTLEY CRÜE intend to embark on a tour as soon as the Coronavirus / COVID-19 Virus pandemic is under control and/or resolved.
Even if the tour gets rescheduled, it's hard to say when that would be since DEF LEPPARD is scheduled for U.S. fall tour with ZZ TOP. Tickets and dates for that tour can be found here.