According to Metal Insider, today's The New York Times crossword puzzle name-checks PANTERA. The clue to 51 Across is "Heavy metal band with the #1 album 'Far Beyond Driven'." It's not the only rock-themed clue it today's puzzle either, with 19 Across hint being "1972 Alice Cooper hit with the lyric 'we got no class.'"
PANTERA reached a major milestone in 1994 when the legendary metal band's seventh studio album, "Far Beyond Driven", debuted at No. 1 on The Billboard 200, becoming the fastest-selling album of the group's career and its second consecutive platinum release. Not only a commercial success, the album also earned positive reviews around the world for the beautiful brutality of its all-out sonic assault.
2014 marked the 20th anniversary of that landmark album and Rhino celebrated with a special two-disc version that included a newly remastered version of the album, along with a live performance from the 1994 Monsters Of Rock festival. "Far Beyond Driven: 20th Anniversary Edition" was made available on March 25, 2014 for a suggested list price of $18.98. A digital version will also be available.
Following its No. 1 debut, "Far Beyond Driven" remained on the Billboard album chart for seven more months and many still regard it as the heaviest album to ever top the chart. Its 12 tracks represented a continuation of the previous album's relentless musical onslaught with hard-hitting tracks like the first single "I'm Broken" as well as the mosh-pit classics "5 Minutes Alone" and "Slaughtered". Another standout track was the group's swirling acoustic cover of BLACK SABBATH's "Planet Caravan", which became a live favorite when PANTERA hit the road to support the album later that year.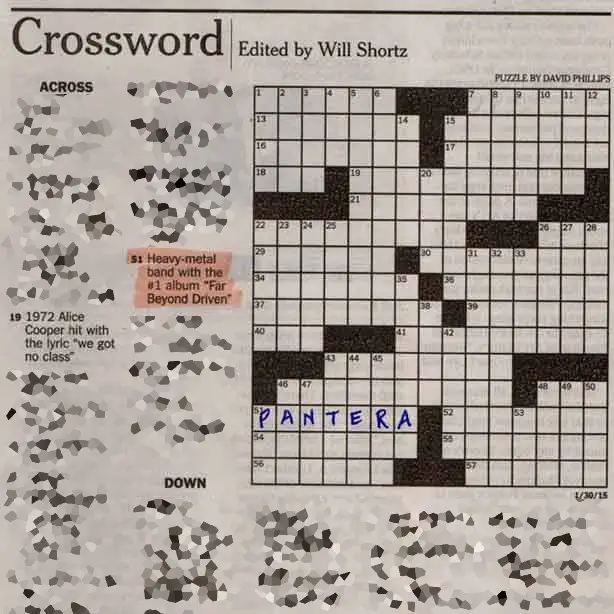 Source: Blabbermouth