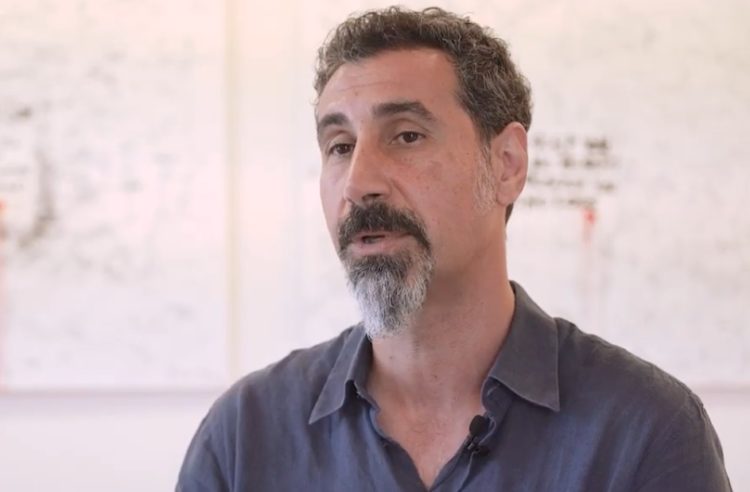 SYSTEM OF A DOWN frontman Serj Tankian took to his Instagram to share the lyrics to the band's early demo track "Temper," which was originally demoed for group's 1998 debut album, but ultimately didn't make the final cut.
He wrote about "Temper" in his post: "A very early SYSTEM OF A DOWN song that was on one of our demos-lyrics below: if you love this song or play along to it and love Trump, you're a hypocrite-just a simple fact 🙂 'Temper'"
He then chimed in in the comments section to add: "Let me add that obviously the song was written in the 90s and refers to injustice in the US and injustice by the US via successive Democratic and Republican administrations. I just find the most current one the most repugnant."
During a recent appearance on "Side Jams With Bryan Reesman" podcast, Tankian was asked how he reconciles in his mind the fact that some fans of his band's music may not agree with his political views.
"I don't. I've always explained music like pizza — some people like the crust, some people like the cheese, some people like the topping," he responded. "So when I get people on my socials that are, 'I love your music, but I don't wanna hear your political ideas,' that's fair enough — if they're nice enough, it's fair enough, but sometimes they're really mean. But what I don't understand, and a lot of other people that follow the music say the same thing — they're, like, 'Have you not listened to the f*cking words in 20 years?
"He's been saying all this stuff through his music all this time. What are you, just dancing to it because it's groovy? You're not really getting the message?' And that's okay, too, obviously — people just like hard music; they wanna listen to hard music. They never even thought that [the SYSTEM OF A DOWN song] 'B.Y.O.B.' is anti-f*cking-imperialist — maybe. I don't know — I don't know how you can, but I guess maybe. So it's very interesting to me, seeing that.
"The only thing I can say about that is that we need to spend more on public education," he added. "One of the few things that could be a great solution to our long-term environmental possible self-destruction and all of that, and the easiest way to start fixing it is first fixing us — we have to fix us first."