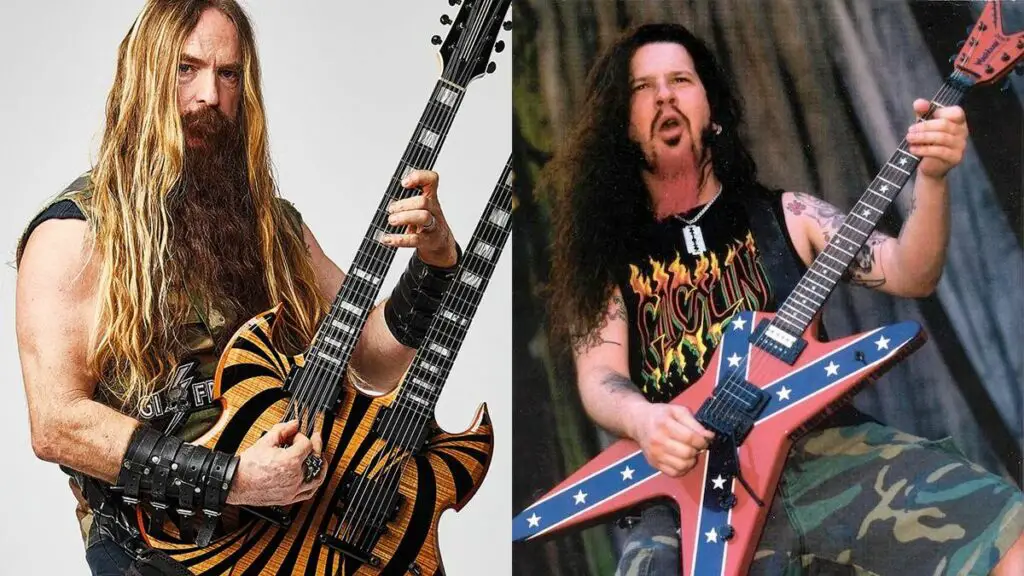 Guitar tech of late Dimebag Darrell — Grady Champion — will be joining PANTERA's upcoming reunion tour running effects for Zakk Wylde to help capture Dimebag's classic tone.
In an Instagram post, Champion explains that he's not acting as Wylde's guitar tech, noting that "he has a bad ass, long-time one," but he'll still be involved in crafting his instrument's sound. He also notes that Dimebag's widow Rita Haney has given him access to some of the late guitarist's gear, which Wylde will be using at the upcoming shows.
"I started with PANTERA and I will end with PANTERA," Champion says in an Instagram post. "I didn't know the 'right' thing to think, to say, to do. When I saw the headline like everyone else, I threw up, sweaty palms, heart was freaking out, I had seen that headline 1000 times in my nightmares. After it sunk in and I spoke to everyone, I felt like I would be crazy to turn my nose up and say f that. I need to be involved IF I am needed, turns out I am needed, and i'm fkn doing it."
As previously reported, ANTHRAX drummer Charlie Benante and OZZY OSBOURNE guitarist Zakk Wylde will join PANTERA's surviving members on a reunion tour.
Wylde and Benante have opened up about their participation in the upcoming PANTERA tour in a new guest appearance on iriusXM's "Trunk Nation With Eddie Trunk."
Zakk said: "It's gonna be awesome. The fellows have always… When Vinnie was still with us, it was always rolling around that, 'Zakk, would you honor Dime and all of us get together and do this thing?' And I said, 'Fellows, whenever you wanna do this thing, I'll be over here waiting in the dugout and in the bullpen. And just call me when you need me and I'll learn everything and we'll go do this.'
"Throughout the years, there's always been rumblings about it, so it wasn't until, obviously, now… I was speaking on the phone with Phil — we might have been all on a group call — but Phil was just, like, 'Zakk, would you honor Dime and would you play?' And I said, 'Yeah, Phil. Of course. I've always said I would. Of course.' I said, 'If you guys wanna go do it, then let's do it.'"
As for what his approach is going to be to playing the parts originally written and recorded by Darrell, Zakk added: "You approach it the same way as you do when I'm playing with Ozzy. Obviously I've gotta learn [Randy] Rhoads's stuff and I've gotta learn Jake's [E. Lee] stuff, and when I was doing the [BLACK] SABBATH stuff, you learn it and do it as faithful as you can. Charlie's gotta learn all of Vinnie's parts. You approach it as if you're in a cover band. When we do the ZAKK SABBATH stuff. I don't start changing lyrics midway through 'War Pigs.' You learn the songs — so that's what you do."
Benante continued: "I can't go do this as the drummer from ANTHRAX because it would be a different sound completely. So the way I'm gonna do that is if you close your eyes, it's gonna sound like it's Vinnie, basically. And that's how it's gonna be… The sound is gonna sound exactly like him."
On when he was first approached to do PANTERA tour, Benante said: "Oh, man. December [of last year]. End of December. I was talking to Philip, and then he just mentioned this. And I said, 'Oh, yeah, sure. Whatever.' And then it became real about January [or] February… To this day, if it happens, if there's one show that's played, great."
Anselmo and Brown have signed with Artist Group International to book their North American dates. Dennis Arfa and Peter Pappalardo will be the responsible agents.
"We are thrilled to be working with such an iconic band and bringing their music back to the fans," comments Pappalardo.