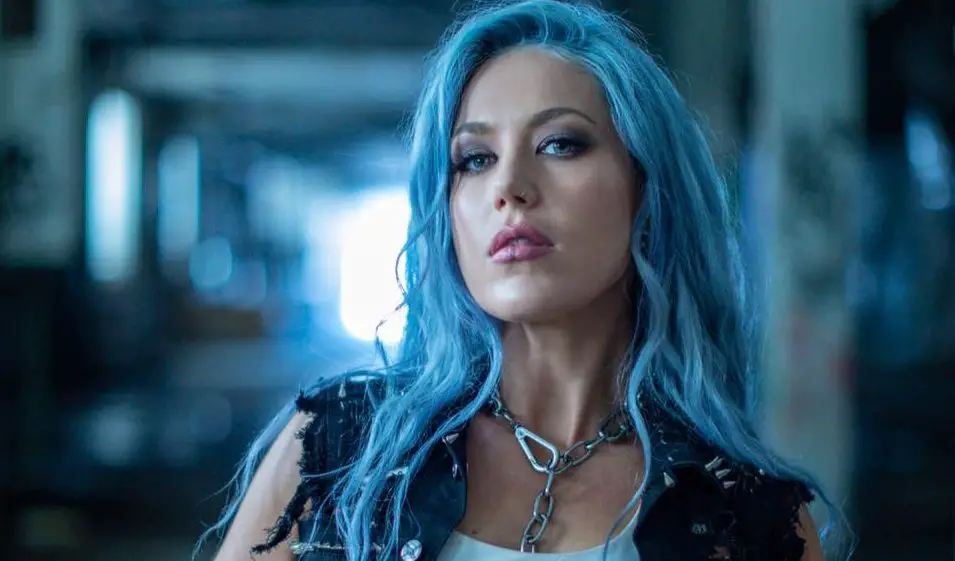 During a recent appearance on "Vox&Hops" podcast, ARCH ENEMY singer Alissa White-Gluz spoke about the progress of the recording sessions for her long-in-the-works debut solo album.
"What happened was it was announced [in September 2016] that I signed [with Napalm Records] for a solo album. All I did was sign to do one, but I think a lot of people interpreted that I had an album that I was ready to put out," she said.
"So, basically, when the news came out about this solo album, the only thing that happened at that point was that I just agreed to do one. And then I was on tour for, like, three hundred days of the year up until 2020. And so now it's done, because now I've actually been home long enough to write the songs and get them done. And it's awesome and I love it."
Regarding a possible release date, Alissa said: "There's nothing holding it back — it's done — but I need to be careful with how I release it, because now there's so many releases happening that I wanna make sure that the music gets the attention it deserves. So it's not gonna come out at the same time as an ARCH ENEMY album, for sure, because that's just not a good idea, but I will find a time to release it in a way that makes sense."
Speaking about the musical direction of the album, she said: "It doesn't really sound like ARCH ENEMY, actually. It's still me, so it's gonna sound a little bit like ARCH ENEMY, but it's kind of different. I feel like it's kind of an amalgam of that really interesting place that you're at when you're a beginner musician, because although I'm not a beginner vocalist or songwriter, I am a beginner guitarist — I'm very bad at guitar.
"So when I'm writing songs on guitar, I have an approach that is probably totally wrong, and that's what, I think, makes it cool. It's different — it's an unorthodox approach. I mean, I can still play it, but it's not my main instrument, so when I'm writing riffs on a guitar, I'm writing like a vocalist writing riffs on a guitar. Some could argue that that's kind of how Michael [Amott, ARCH ENEMY] writes too, actually, because his riffs are so 'sing-songy.'
"But, yeah, so I wrote a bunch with Jeff [Loomis, ARCH ENEMY guitarist] and I wrote a bunch with a lot of other people, actually, which I don't wanna spoil and announce them all now. But there's clean singing, there's growling, of course, and other interesting vocal techniques with the note screaming and some operatic stuff. It's a heavy album. I don't know what genre to call it. It's totally self-produced in that sense. It's honest. It's exactly what I just felt like writing for this. So there's some prog elements, there's some rock and roll elements, there's a lot of metal in it, obviously. But, yeah, I'm really happy with it. So I hope that other people like it too, basically."
ARCH ENEMY's new album, Deceivers, will be released on July 29 via Century Media Records. A collection of 11 tracks that are ruthlessly catchy and mercilessly violent, Deceivers stands toe to toe with the highlights of the band's storied catalog. Deceivers can be pre-ordered via Amazon here.
As an Amazon Associate, we may earn commissions from qualifying purchases.