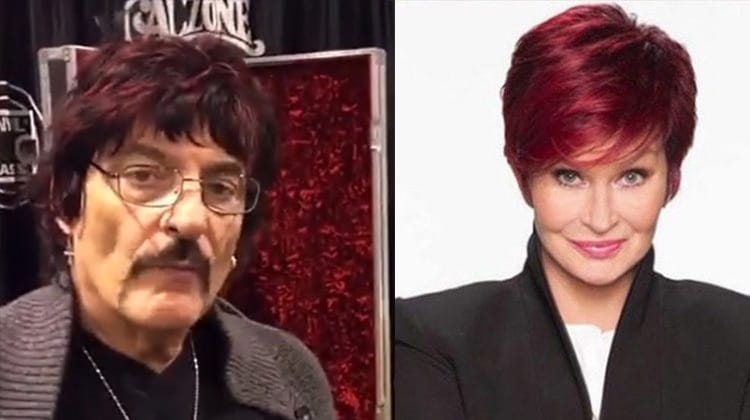 During a recent appearance on Talking Metal, legendary drummer Carmine Appice looked back on his 1983–1984 stint in Ozzy Osbourne's band.
When asked how he ended in Ozzy's band, Carmine responded: "We did our first gig with Ozzy — CACTUS and BLACK SABBATH — the opening act was STEEL MILL, that had Bruce Springsteen in — pretty funny night, everybody became legendary. And when I joined Ozzy, I was in the south of France doing a clinic convention there. And my manager called me, said, 'Sharon Osbourne's looking for you, what do I do? I think they want you to join Ozzy's band.' I said, 'Really?'
"I called him and basically they said, 'Can you come to London and meet with us?' And I said, 'Yeah, I can rearrange my schedule.' And I went to London, met with them, met with Ozzy and Sharon, and everything was great. They said, 'We'd love for you to play with us.' I said 'what happened to Tommy Aldridge [now known as the longtime drummer of WHITESNAKE — who recorded the drum parts on 1983's Bark at the Moon.]?' They said, 'We're doing the Bark at the Moon record, and his tempo's terrible. We want you to go to the studio to help Tommy Aldridge's drum sound.' I had a contract, and on my contract, I had my own merch on the tour.
"From the studio, we flew SST, they had these supersonic jets — me and Ozzy flew to London to do the video. The rest of the band was there — [bassist] Bob Daisley, [guitarist] Jake E. Lee, [keyboardist] Don Airey. What a great band.
"And then we did that video [for 'Bark at the Moon'], and then we got to start the tour, and we did the first shows in Europe, and it was great," he continued. "We did that Dortmund festival. Everybody was on that festival — JUDAS PRIEST, all the big heavy metal bands of the day.  I did my solo, 'Journey to the Center of Eternity,' and that was my big showcase, but I was doing all my tours as planned, everything was great in Europe."
However, after getting praise for the drum solo in the press, Appice says he started facing technical difficulties on-stage, adding: "I do the solo, I get the same reaction I normally get, so I said to Bob Daisley, 'Do you think she [Sharon] was sabotaging her show because of that article that she saw?' Bob said, 'Without a doubt, she just did that to get back at you.'
"And then a couple of weeks later, we're playing Dallas, and I see Tommy Aldridge hanging around. Little did I know he was there to replace me. So the next day in Houston, we had a great show, everybody's going, 'Wow, great show, everybody played great,' even Ozzy. I got a message from the tour manager, 'Sharon wants to see you in the production office.' I go in there, I go, 'What's up, Sharon?' She goes, 'I think you know…' — that kind of attitude. 'No, I don't know. What's up?'
"She goes, 'You've seen Tommy Aldridge hanging around? Well, he's starting the tour on Monday. You're fired.' 'What do you mean I'm fired? I have a contract with you. Fired? Why I am fired?'
Carmine added: "She says, 'Your name is too big. You need to start your own band. We need more of a side-man like Tommy.' I said, 'Well, she's blowing away,' because it was going great, and I still have masterclasses lined up for the future cities, which I had to go to and do. While Ozzy was playing the arena, I'm doing a master-class. And that really pissed me off.
"When I did my book, an article came out, I think it was a major website. It said, 'Carmine Appice: Sharon Osbourne, The Nastiest Woman in Rock.' They called her for comment; she goes, 'I don't even know what that is.' That's ridiculous."
Carmine also spoke about his later encounter with Ozzy, saying: "We've got a deal in KING COBRA rehearsing at the studio, and Ozzy's auditioning drummers. He goes, 'Hey, Carmine, how are you mate?' I said, 'Good.' He gave me a hug, he said, 'Well, you and my missus have problems…' Because I was suing them at the time. And he goes, 'I hope we can still be friends.' I said, 'Yeah, Ozzy, I know it's not you. What are you doing? Sharon told me to get my own band, so I did, and it's called KING COBRA.'
"I got these vehicles that are painted all white, so I'm up on the ladder, I'm putting paper on the windows, and he goes, 'You need a hand?' I go, 'Sure.' I put Ozzy on the ladder — he was on the other side, putting the tape and the paper on the windows, and we remained friends."