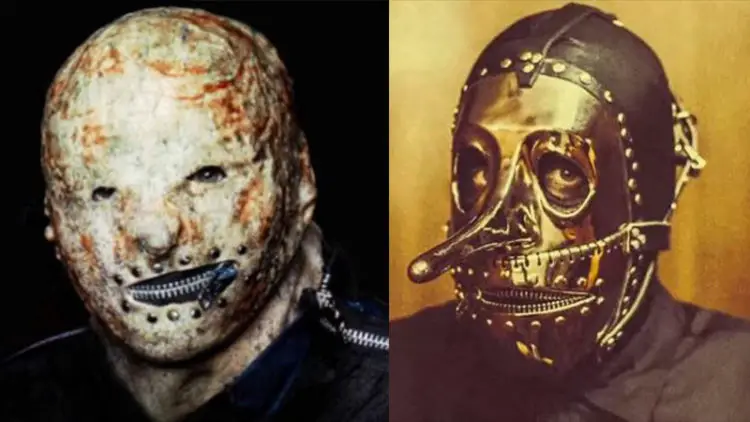 After Chris Fehn's first appearance on social media in months, where he said that he hopes to get back in SLIPKNOT one day, he now addressed the fans on band's new percussionist, who is replacing Fehn, simply nicknamed Tortilla Man.
After a fan told he that he "hates" Tortilla Man, and then ask Fehn to return to group, former percussionist simply responded: "don't hate man."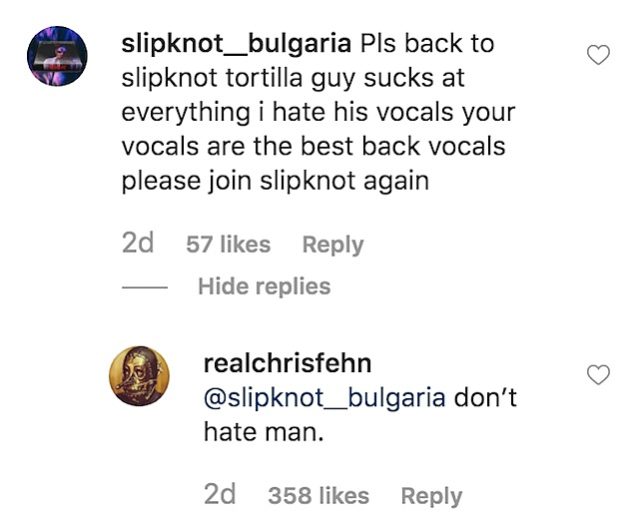 In March, SLIPKNOT announced the departure with Fehn after he filed a lawsuit against his band members over unpaid loyalties.
In his lawsuit, Fehn claims to have always been told that the money from merchandise and touring is funneled through one sole company that splits profits and pays the members of the band. However, Fehn claims he recently discovered that his bandmates have set up several other SLIPKNOT-affiliated business entities in different states that appear to be collecting money from the band.
Recently, The Blast has obtained filings to the court by Corey Taylor and Shawn "Clown" Crahan demanding the case to be dismissed since they feel this case was filed in jurisdiction that makes no sense.
They claim to have no ties to New York, where Fehn filed the case. They claim none of their contracts were executed in the state nor were any of their albums recorded in New York.
"Other than infrequent performances in New York when the band has been on national and international tours, Crahan and Taylor simply have no presence in New York," they added.
In August, guitarist Jim Root spoke about the new member, simply nicknamed Tortilla Man, who is replacing Fehn.
"He's a character. I didn't really know him very well before he started playing with us. But he's a hell of a musician," Root said in an interview with The Art And Span Show.
"The guy is a world-class pianist," Root added. "He's a great percussionist, he's schooled in music. He's not just a garage musician who came up and learned on his own. He obviously had natural ability, but he took it to another level and actually got a degree in music.
"So the guy is next level. Plus he's just out of his mind! I didn't think it was possible for anybody to match us.
"I'll be standing there playing and all of a sudden I'll hear this thump next to me, and he'll have jumped down from his drum set. He's next to me and I'm like, 'You're insane, dude. Your knees are going to f*cking just be done.'"
After the interview, a new theory on Reddit appeared where the fans pointed out that the new percussionist could be Michael Pfaff.
Pfaff handles the keyboards and organ in DIRTY LITTLE RABBITS, which also consists of SLIPKNOT's other member M. Shawn "Clown" Crahan.
SLIPKNOT released their sixth studio album, We Are Not Your Kind, on August 9 via Roadrunner Records. Album was once again recorded at a Los Angeles studio with producer Greg Fidelman, who engineered and mixed SLIPKNOT's 2004 album Vol. 3: (The Subliminal Verses) and helmed 2014's .5: The Gray Chapter.
[via MetalSucks]