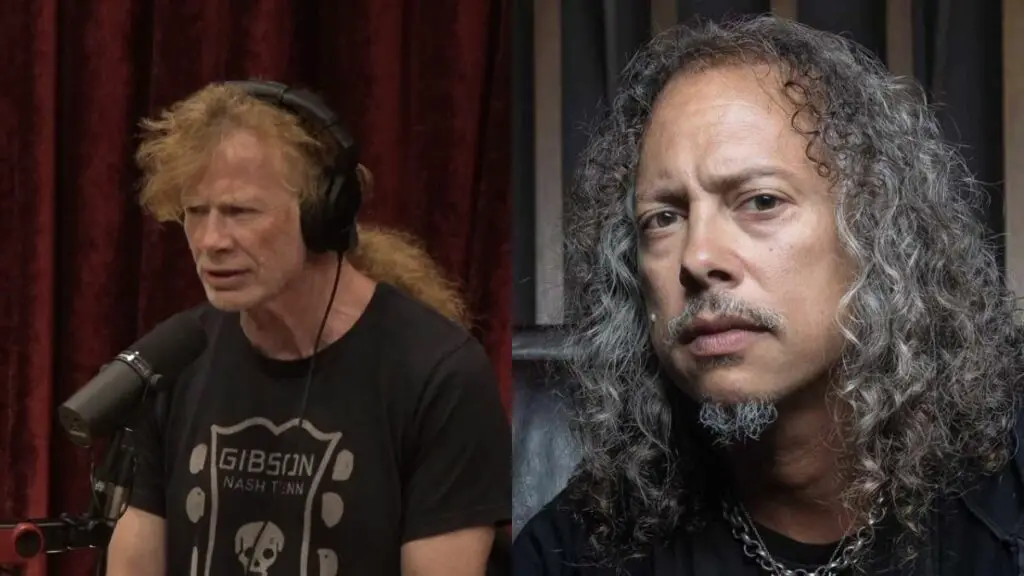 MEGADETH mainman Dave Mustaine was recent guest on "The Joe Rogan Experience."
During the chat, Mustaine reflected on his 1983 dismissal from METALLICA and the formation of MEGADETH.
When asked if went "right into" MEGADETH after his exit from METALLICA or if it took him some time to plot his next move, Dave responded: "I think in my mind I went right into MEGADETH, but at the time I was still kind of trying to digest everything that took place.
"The thing that bothered me the most was I had all my music, and I left it behind and I said, 'Don't use my music.' And of course they did. They used it on the first record [Kill 'Em All], on the second record [Ride The Lightning]. There's parts of my music on a song on the third record [Master Of Puppets]. All the solos on the first record are mine, except that they're just performed by Kirk [Hammett]. And [they're] close but not the same. And he's not a bad guitar player."
Asked if he got royalties for that, Mustaine said: "Well, most of 'em, yeah, but Kirk got my royalties for [the song] 'Metal Militia' [from Kill 'Em All] for many, many years. And he has to see the check, so I know somebody saw that I wasn't getting paid.
After Rogan noted that Mustaine feels both "sadness and bitterness" over his departure from METALLICA, Dave added: "Not bitterness — I'm over it. It's just money. At the end of the day, my happiness and my family and my wife and my children are more important to me than anything in this world.
"I love our fans. I have so many things in this life that I'm happy about. But, man, it's my family. And obviously my relationship with God. I take that very, very personal. And I don't talk to people about it; I don't push it on 'em at all. It's my thing. And I just look at it like where I'm at right now… Yeah, [I was] 20 [years old] in METALLICA, and now, look at me, I'm 60 [years old] in MEGADETH. And I'm a Grammy winner. I'm a New York Times best-selling author — all these things."
MEGADETH's upcoming studio album, The Sick, The Dying… And The Dead!, will be released on September 2 via UMe.
Featuring twelve new tracks, The Sick, The Dying… And The Dead! will be made available on CD, vinyl, and cassette, as well as digitally through all online partners. There will also be a limited deluxe edition 2LP, 12-track album pressed on 180g black vinyl housed in a numbered gatefold jacket with a 12×24 lyrics/credits insert, a lenticular vinyl lithograph and a bonus seven-inch featuring "We'll Be Back" and the unreleased B-side "The Conjuring (Live)." The limited deluxe edition can only be purchased via MEGADETH's official online store, through Sound Of Vinyl and uDiscover.
You can pre-order album here.