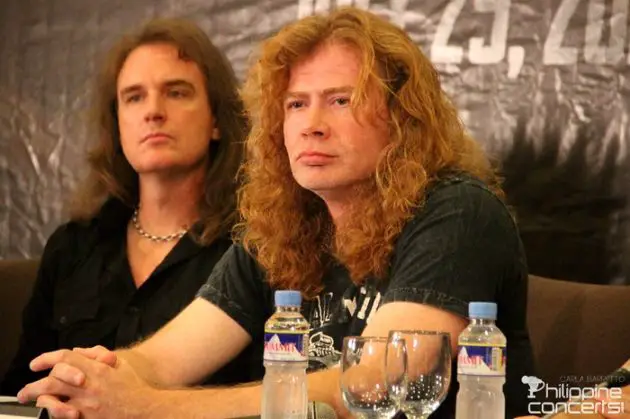 In a new interview with "The Cassius Morris Show," David Ellefson once again opened up about his dismissal from MEGADETH in May this year.
As previously reported, Ellefson was fired from the group after sexually tinged messages and explicit video footage involving the 56-year-old musician leaked.
When asked if his split with MEGADETH affects only his professional relationship with the band or if it also means the end of his friendship with MEGADETH leader Dave Mustaine, Ellefson responded to "The Cassius Morris Show": "My view on that is, look, relationships are never really fully done — especially one where you've had sort of a brotherhood and a professional [relationship] and friendship and all these other things. If you're in a band, it's not like, 'Dude, it's just business.' You're creative, you're friendly, there's business — all those things are intertwined; it's all part of that. So, if we're not hanging right now…
He continued: "I don't wish anybody any ill will; I wish everybody the best. I think that's one of the ways to sort of bless it — you give it your best and you give it your best energy and not harbor grudges on anything. Instead of being sad that it's over, be glad that it ever even happened. We got to live a dream. We got to do something most people will never get to do, and we got to do it. So, if this is the sort of exit from that, or a timeout from it, whatever it is, let it be what it is.
"I just love that analogy: there's a reason the rearview mirror is very small in the car — 'cause you're not supposed to spend all your time looking at it. Look through the big windshield up front. That's where your head is, that's where your hope is, that's where your future is, where everything is.
"It's easy to micromanage stuff in the rearview mirror, but that's all meant to be behind you," Ellefson added. "The good news is, look, our songs still get played everywhere. They get played on the radio. I hear 'em around. I see people wearing our t-shirts. And it's kind of, like, cool. That's awesome. I'm proud to have been a part of all that."
During a recent interview with The Metal Voice, bassist David Ellefson says he asked MEGADETH to not remove his bass tracks from band's upcoming album, but his request was denied.
When asked if he is bothered MEGADETH removed his bass tracks from upcoming album, Ellefson responded: "They did what they did — I don't think they had to do that. I asked them not to. But they did what they did. It's the path they chose."
On whether he would rejoin MEGADETH if given another chance, David said: "Look, I don't have — believe it or not — people might find this hard to believe, but I don't have any ill will toward him [Dave Mustaine] or them [the band]. I really don't."