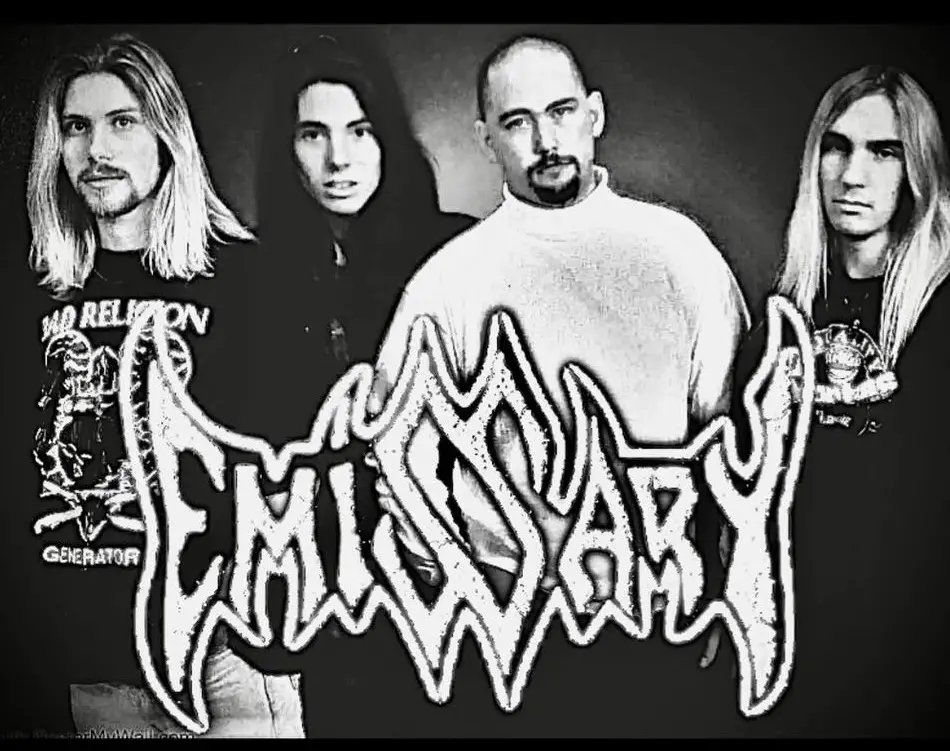 Much has happened since Southern Oregon melodic thrashers EMISSARY recently announced its reformation after a 25-year hiatus, and the recording of a new album with Germany's Underground Power Records. The band has teamed up with producer/engineer Doug Hill (60 Psycho Hum), known for his work with SYLENT STORM, HELMET, NEUROSIS mainman Scott Kelly, and Grammy winners MASTODON. Hill is mixing/mastering one track from EMISSARY's forthcoming album, which will appear on an upcoming Soulgrinder Zine compilation later this year.
In addition, the band has added Pete Kinney's former CORE SYSTEM FAILURE bandmate Jon Holden to the quintet, which features members of the classic EMISSARY lineup; Kinney's Curtain Call Records bandmate Tim Dahlen from SONIC OCTANE on lead guitar, drummer Eric Hoover and SYLENT STORM frontman Jym Harris. In addition, POSSESSED axeman Claudeous Creamer will make a guest appearance on at least one EMISSARY track in the near future.
Last but certainly not least, the current members are excited to be playing a hybrid set at Redwood Metalfest on August 21 under the banner of SYLENT STORM, whose 2020 LP The Fire Never Dies will be released on vinyl by Germany's Underground Power Records in the coming months.
As previously reported, an official lyrics video for the demo version of new EMISSARY track "The Silent Treatment" has been released, and you can give it a listen below.
EMISSARY is known for blending straightforward mid-paced (late 80s/early 90s style) Bay Area-inspired Thrash with classic headbanging US Power Metal. The upcoming LP will feature newly recorded tracks from EMISSARY's 90's back catalog plus brand new material as well. Their West Coast American style has been compared to bands like DEATH ANGEL, PANIC, FORBIDDEN and early METALLICA.