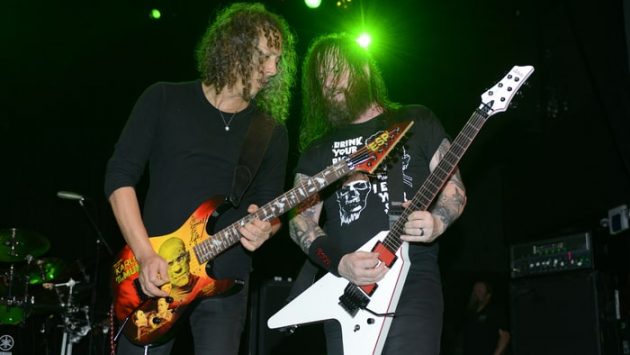 During a recent appearance on Let There Be Talk, current EXODUS and former SLAYER guitarist Gary Holt, looked back on the time before he joined the band in 1981, and how METALLICA guitarist Kirk Hammett taught him to play guitar.
After interviewer noted that he had no idea Kirk taught him to play guitar, Gary said: "Yeah, we met briefly when EXODUS played a little an after-school performance in Richmond Heights [in San Francisco, CA].
"I knew [original and current EXODUS drummer] Tom [Hunting] because he grew up across the park from me, you know, I'd walk out my house and two doors down is a park you would walk across and in 90 seconds, Tom's house's on the other side.
"I didn't know Kirk; the first time I saw Kirk, they did SCORPIONS, and Kirk's singing is terrible. [Laughs] Maybe Tom didn't know the lyrics at the time — because Tom is also a vocalist, and Tom could sing his a—s off — but yeah, it was pretty rad.
"Then we went to see Ted Nugent with SCORPIONS at the Cow Palace, and that's the first time I hung out with Kirk, and so we met at his house over in El Sobrante [California], and he put on SCORPIONS' [fourth album, 1976's] Virgin Killer for me," he continued. "I never heard Uli-era SCORPIONS before, and I heard that solo on that, and it changed my life, that's why there's a whammy bar on f*cking 99% of every guitar I got.