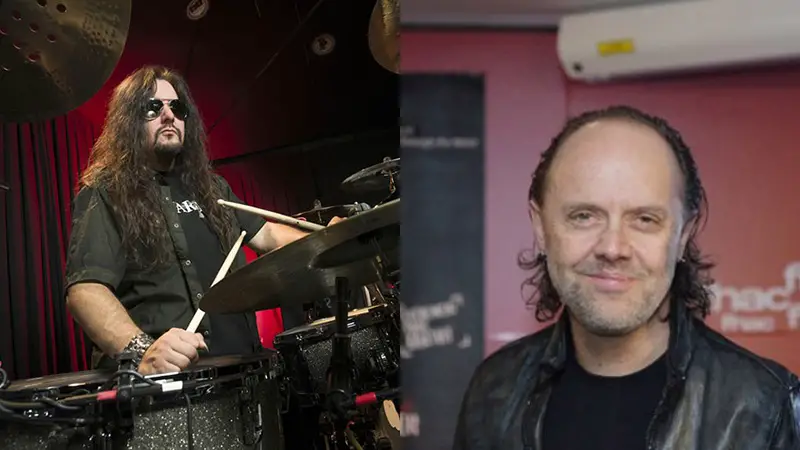 In a new interview with Metal Hammer, legendary metal drummer Gene Hoglan — currently a member of TESTAMENT — discussed the similarities between the drum part of DEATH ANGEL's 1986 track "Darkness Descends" and METALLICA's 1988 "One."
When discussing what he would say to his 13-year-old self if he could, he said: "'Steal all you can from drummers.' That's what drummers do — it's just how you apply it that makes it your own. I had such a mishmash of influences it was going to be inevitable that I was going to develop my own style.
"Like in DARK ANGEL, I was trying to create beats that had never been heard before. Like the opening of 'Darkness Descends,' that beat in the very first minute, I'd never heard anyone play that beat before, so I dropped it in.
"Then a few years later I had all the phone calls: 'Hey have you heard that new METALLICA song 'One'? It's got your beat in it, it's got the riffs, it's even got the lyrics, 'Darkness imprisoning me!' I thought, 'Oh that's cool, we're influencing Metallica now!' [Laughs]"
During a last year's appearance on Dean Delray's "Let There Be Talk" podcast, Hoglan also touched the topic, saying: "I'll flat out tell you, that comes from a DARK ANGEL song. That comes from 'Darkness Descends.' And it's well known in the scene that as soon as [METALLICA] put out 'One,' I got so many phone calls going, 'You know those guys are ripping you off.'"
Hoglan continued: "We had [METALLICA's longtime] soundman, 'Big' Mick [Hughes], we had him on a tour, and METALLICA was up for the Grammy at the time, but it hadn't been announced or anything yet.
"And I was joking that, 'If they win the Grammy, I'm gonna sue.' [I was] totally joking. And Mick was, like, 'You should. They'll probably give you a hundred grand to shut you up.' And I was, like, 'I'm not gonna become the pariah of the metal scene by suing METALLICA.' Everybody's stolen METALLICA riffs."
Asked if he believes "One" was inspired by "Darkness Descends" in the drumming only or in "the musical part" as well, Hoglan responded: "The whole everything. The drum part, definitely. And that's why I just thought it was kind of funny. The first line in the whole thing is, 'Darkness…' And it comes right from 'Darkness Descends', opening track on the second [DARK ANGEL] record. So, as soon as you hear it, you'd catch it."
Gene went on to say he never brought up the similarity to Ulrich even though he had toured with METALLICA many years later when he was a member of FEAR FACTORY.