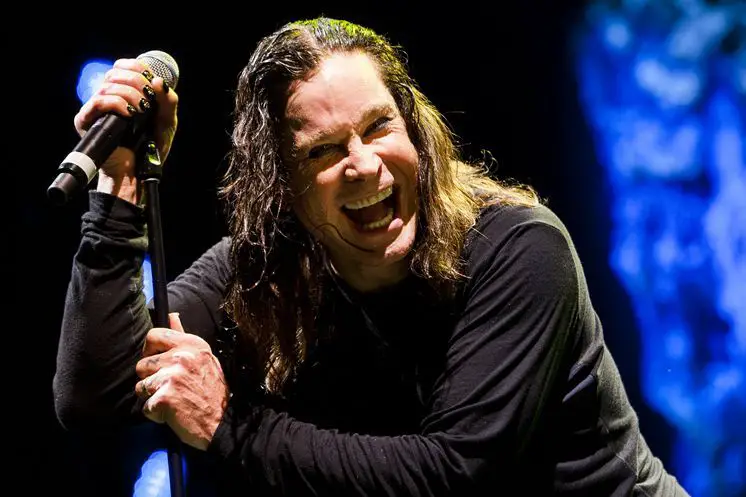 During a recent appearance on The Eddie Trunk Podcast, producer Max Norman looked back on his work on the first three Ozzy Osbourne solo albums.
Speaking about classic Ozzy track "Crazy Train," originally released on the 1980's Blizzard of Ozz, Max said: "So, we're doing 'Crazy Train,' and all of a sudden, we're doing the first line, so I'm playing the intro, the beginning of the intro, the whole riff, and he [Ozzy] goes 'Oi,' he goes 'I'm kind of laughing, leave it on there,' because you can keep everything, basically. So I leave it on there and he sings the first line, and he said, 'How was it?' I said, 'Good, Ozzy, now double it.' So coming from the beginning of the song again, and he hears this 'Oi,' and he goes 'Oi' after it, so we start laughing, and then we decide to put one more on there.
"So he goes 'Oi, oi, oi,' so it was a mistake, actually," Norman continued. "He was supposed to double the 'Oi,' but he didn't, and then we added another one to make it not seem like a mistake. The whole point of the story is that ù I listened to it today, and it must be a remix because it went 'Oi, oi, oi, oi,' and it's what we call the ping-pong echo, left-right echo, 'oi' left, 'oi' right, so I didn't do that on the original mix, I thought about it, and I thought it was a little more organic to just leave him to do the three 'Oi.'
"If you hear it with that ping-pong echo left-right, then it's a remix for sure because I didn't do that. That's what I'm trying to work out because I heard that today, and it wasn't loud enough to tell whether it's the original or not, I'm really not sure. It would be interesting to find out."
When asked if he ever realized while recording first two Ozzy records "how timeless and special they would be," Norman responded: "Well, I get asked that quite a lot — and the answer is no, absolutely not. I had no idea at the time. Well, maybe you have 10% of a feeling, 'This is good.' Basically, you're happy that the stuff is going well, and you're happy that they're playing the songs good, and you're happy that the songs are good, and you're happy that the lyrics are good, so you're really just happy.
He continued: "You get into the zone, so you're really inside the bubble, and you have no idea really whether it's going to work or whether it's not going to work — you make it the best you can, you do the absolute best you can, but at the end of the day, it's not possible to know the impact.
"And of course, hindsight is 20-20. But no, we didn't know. Ozzy got 35 grand, pounds [around £180,000 or $250,000 in today's money], for leaving BLACK SABBATH, and I think that was the money that he took at the time. And he was very inauspicious, everybody was pretty laid back, even Ozzy came walking in, and I didn't actually know who he was, I thought he was the road guy. Everybody's just hanging out, and the fire only started when the band got in there."