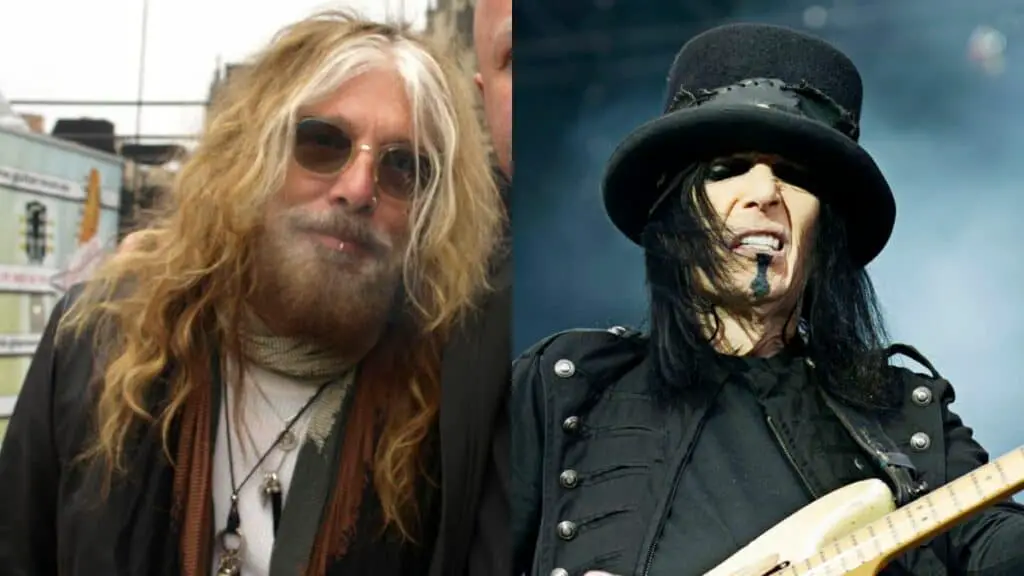 On the latest episode of "Life In The Stocks," former MÖTLEY CRÜE singer John Corabi was asked for his thoughts on founding guitarist Mick Mars's recent announcement that he would no longer tour with the band.
As previously reported, Mick Mars has retired from touring with MÖTLEY CRÜE due to worsening health issues, and has been replaced with John 5. Mars still remains as a member of the CRÜE, but he will not participate in any touring activities.
Corabi now said: I will just say this: I know John [5] as well. He's a brilliant — and I cannot say 'brilliant' loud enough — he's a brilliant guitar player and a great dude. But the verdict for me is out until I hear a statement from Mick. The statement that we heard was put together by MÖTLEY and their people. And I'm not totally sure I believe what they're saying. So I'll just leave it at that."
He later added: "I don't totally believe Mick's reasons for leaving MÖTLEY. And I don't even know if he left MÖTLEY. I believe maybe he was shown the door. Because as long as I can remember… F*ck, when we were doing the Generation Swine record, they were complaining about his guitar playing then. And if you really look at all of the records they've done since then… The majority of the guitars on the Swine record, which is one of the reasons why I sued the guys, are mine. They were complaining about Mick the whole f*cking time. And I don't know if he played on New Tattoo — I'm not sure — but I know on Red, White & Crüe, it was D.J. Ashba; on Saints Of Los Angeles, it was D.J. Ashba; and on The Dirt [soundtrack], it was John 5.
"I don't know. I could be totally wrong about this, so don't run around and f*cking, whatever, put it in print yet, but I'm just saying I'm waiting for Mick's response. The one that we've all heard came from MÖTLEY and their management."
"Because since that announcement came out, I've reached out to Mick and his wife a few times," he added. "And Mick hasn't responded at all. And I sent [his wife] — she's from Switzerland — so when I was there last week, I sent some photos of the Alps — I was in the Alps — and I wrote to her, and I said, 'Hey, I'm in your motherland.' And she wrote back. Then I came back, and I was, like, 'Hey, man, how's Mick?' And she goes, 'He's fine.' [And I said], 'Hey, what's going on?' Crickets. So that's kind of unusual behavior for Mick and [his wife]; they would normally [be] just, like, 'Yeah, dude. Everything's cool. Whatever.'"
On possible reasons for Mick's silence, Corabi said: "I don't know if he's embarrassed or he's maybe… Who knows? Maybe he's angry and maybe he's being told not to say anything to anybody. Maybe there's gonna be a lawsuit. I don't know. But I just know how those guys operate, and I would not be surprised if they didn't say, 'Mick, look. You're in pain. We've got John 5. We're gonna bring him in.' Maybe throw him a bone — like every time they tour, throw him some money — but 'we're gonna move forward with this guy.' It wouldn't surprise me."
"Now, this is all a theory. I know about as much as you guys do. But personally, I don't believe a word of that statement at all."
Earlier this month, legendary drummer Carmine Appice, best known for his work with VANILLA FUDGE, CACTUS and Rod Stewart, said that Mars is planning to finish his solo album and do some touring.
He revealed during an interview with Michael's Record Collection: "I talked to Mick Mars, who's been touring with MÖTLEY CRÜE. He just gave up his seat in touring with MÖTLEY CRÜE. And John 5 is gonna tour with them. He said, 'Man, we did our final tour [seven years ago]. Now we're out again doing this major tour with DEF LEPPARD.' And he said, 'I don't wanna do it no more. I'm sick of being in a bus.' He said he's gonna do a solo album and go out and do some gigs. I said, 'Look, if you need anyone to play drums, I'll play with you.' He goes, 'That would be great.' So maybe I'll do some gigs with him. But it's not gonna be big tours. It'll be a weekend maybe somewhere and then go home. Two weekends later maybe a weekend and go home."