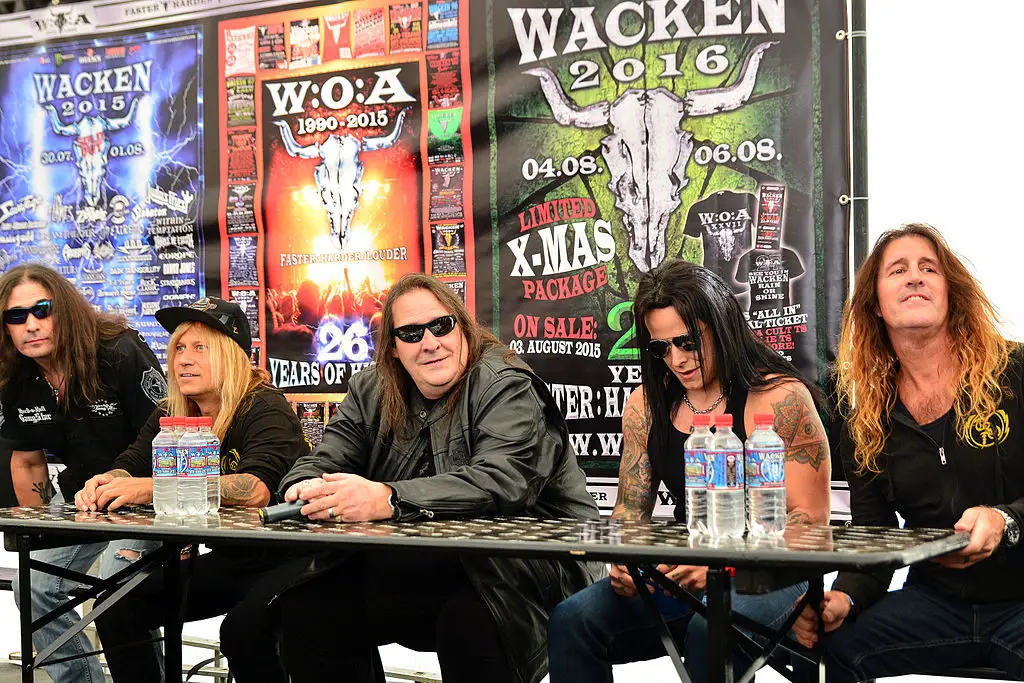 During a recent discussion with Sakis Fragos from Greece's Rock Hard, SAVATAGE leader Jon Oliva, confirmed that he is currently producing new tracks for the iconic metal band.
"This [next] SAVATAGE record is going to f**k people up. It's that good," Oliva said. "I've made these mistakes before. I'm not making these mistakes now. I'm not rushing it. I figure, well, I wanna get it out by next April so that I can come over with everybody. We all wanna come and do the festivals next summer. And I'm, like, I'm not rushing this. No f**king way. 'Cause this will probably be the last album we ever do. And I'm gonna make sure that it's a 10 out of a 10."
"I have enough material right now for three albums," he continued. "And what I'm going to do is I'm going to condense it down. I'm gonna try to condense it down to one album with three bonus tracks. I'm gonna record everything when I get the guys down here. So we're gonna record all the s**t that we've got. And in case I wanna do another album, I'll have it all ready to go. That's the gameplan."
In reference to the new SAVATAGE music's stylistic approach, Jon said: "Some of this s**t is really strong. I'm even looking at myself going, 'Holy s**t. This is really strong.' And the fact that you're gonna have me and [SAVATAGE singer] Zak [Stevens] sharing the vocals and doing songs together in like a duet thing, is even more… it blows me away. I purposely wrote five or six songs specifically for Zak to sing. And then I worked [on] a lot of songs with Al Pitrelli [guitar] that are definitely, 'These are Oliva songs.' And then we have a couple of big epic songs.
"This is gonna be the best album I ever made," he added. "Unless I kill myself. All I know is that the SAVA fans are gonna be f**king blown away when they hear this. They're gonna be blown away. I wasn't gonna do the SAVATAGE thing and just do a half-assed album. If I'm doing this album, it's gonna be the best album I've ever done. 'Cause when I go out, I wanna go out on top."
Jon further mentioned that a new SAVATAGE track titled "For The Man Who Would Be King" is occasionally referred to as "the new 'Morphine Child'," which is a nod of the song from SAVATAGE's 2001 album Poets And Madmen.
"And that's one that me and Zak are gonna do together," Jon said. "And then it's got this big middle section that's all these QUEEN, operatic[-style vocals]. I'm, like, 'Wow, this is gonna be epic.'"
In reference to the additional artists participating in the recording of the upcoming SAVATAGE record, Oliva mentioned: "I'm gonna have [former SAVATAGE drummer Steve] Wacholz come in and play on a couple of songs. But Jeff Plate [drums], Johnny [Lee Middleton, bass], Al Pitrelli [guitar], Chris Caffery [guitar], Zak, me, and on a couple of things I'm gonna have Jane Mangini [TRANS-SIBERIAN ORCHESTRA keyboardist] come in and play.
"And maybe the Ukrainian guy Vitalij Kuprij… 'Cause I have a couple of things that are beyond my capabilities of playing, and I figured instead of me spending a month trying to play this, I'll have one of these guys… My keyboard players with TSO, they're some of the best in the world — by far. So I'm, like, 'Oliva, are you stupid? Why you are gonna sit there and try to…? You can't do it. With four arms you couldn't do it.'"
 "I'm getting everybody involved from the beginning. I want it to be a full-band album, all of us working together. And it's gonna be great."
As for a possible title for the new SAVATAGE album, Jon said: "The working title is 'Curtain Call', but I don't know if that's gonna be it. 'Cause the very last song that's gonna be on the album is this song called 'Curtain Call', and it's just me with a piano, and it's very deep. It's basically me singing to the fans, telling them all goodbye and thank you. Every time I hear it, I cry. Everybody I played it for cries. It's just very deep. But it's my way of saying goodbye to everybody. 'Thank you. I love you all. And this is my final goodbye. Thank you. Have a good life. And do whatever.' So I think I'm gonna call it 'Curtain Call', but it's not in stone yet."
Regarding the schedule for the new SAVATAGE album's recording sessions, Oliva said: "We're gonna work on it and record it starting in June, and we're gonna work on it until we have to go to Omaha for TSO rehearsals. And then after the TSO tour, in January we're gonna come back and finish it up in January and February. And I wanna put it out on Criss's [Oliva, late SAVATAGE guitarist and Jon's brother] birthday [in April] next year."
Additionally, Jon discussed SAVATAGE's plans for touring, saying: "We have a lot of offers to come over and do festivals. And I'm, like, all right, man, look… I'm not 25 anymore. If we're gonna do this, I wanna do Wacken [Open Air in Germany] — I wanna do them all. And that's it. And be done with it. It's my way of saying goodbye to everybody. Giving the fans a goodbye from me and the guys to them. 'Hey, we love you.'
"I've loved our fans forever. They've provided me with a living. And I'm not gonna let them down. I'm gonna come out and I'm gonna be out there next summer doing the festivals and we're gonna kick a*s."