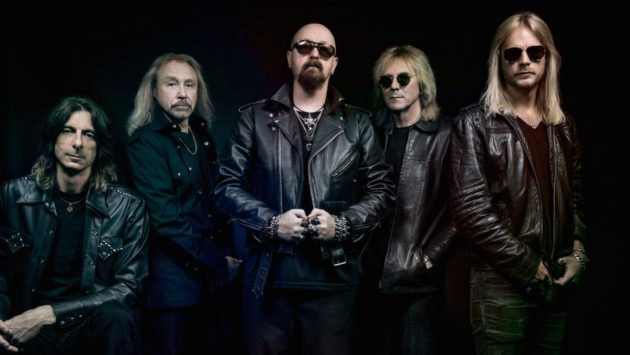 JUDAS PRIEST vocalist Rob Halford and guitarist Richie Faulkner were recently asked by journalist Alan Ovington whether they're inspired by any of the current metal acts, to which Richie replied (as transcribed by Blabbermouth.net): "I've just got back into the experience of vinyl, and going to hunt for vinyls. You never know what you're going to find. You get a good 12-by-12 piece of artwork; you read the lyrics; you put the needle on; you experience the whole thing.
"It can be anything from MASTODON's latest record, 'Emperor of Sand,' which I think is phenomenal. They've really embodied that whole thing – the artwork, the packaging, the experience of the vinyl. It could go right back to Elvis or The Stones, or Hendrix. There's a vast gamut of things which I personally listen to and get inspiration from."
Halford said: "If you're a real musician – what I mean by that is if you're a musician that's able to have the blinkers off and to have a very open mind, to listen to other music and bear in mind that you yourself have gained influence from other musicians as you were finding your way through your life in music – that's going to have some real importance as a creative person.
"Me personally, it can be anywhere, anyone at any time, because the way the internet allows you to find and resource all different genres of heavy metal music, I can just go to my YouTube and pick a band that I'm interested in – a band like POWER TRIP right now, watch a POWER TRIP video, and then YouTube will automatically take you to another experience within that framework.
"To appreciate the advantages of taking all of this new music and listening to it and digesting it carries this influence from place to place, from band to band. It's an amazing thing."