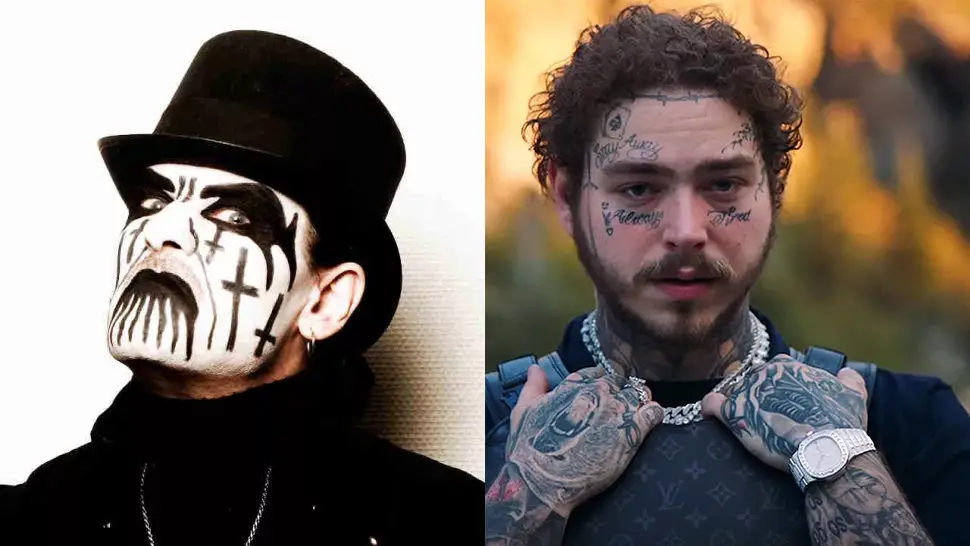 In a new interview with Metal Hammer magazine, King Diamond recalled meeting Post Malone, but at the time he didn't know who he was.
"I did meet Post Malone backstage at a SLAYER concert," King said when asked if he planned to collaborate with the rapper. "It was funny, because he got a picture with me and I didn't know who he was. It was only later that I found out he was this huge star, far bigger than I'll ever be. I don't know much about new music — the closest I get is VOLBEAT."
Earlier this month, King Diamond and MERCYFUL FATE announced dates for Europe, U.K. and U.S. The tour will kick off on June 2nd in Hannover, Germany, and will wrap up on August 21st in Las Vegas, U.S.
Confirmed dates are as follows:
Jun. 02 – Expo Plaza – Hannover, Germany (with VOLBEAT)
Jun. 04 – Mystic Festival – Gdańsk, Poland
Jun. 10 – Sweden Rock – Sölvesborg, Sweden
Jun. 14 – Wuhlheide – Berlin, Germany (with VOLBEAT)
Jun. 16 – Graspop Metal Meeting – Dessel, Belgium
Jun. 18 – Copenhell – Copenhagen, Denmark
Jun. 24 – Rock The Castle – Verona, Italy
Jun. 26 – Hellfest Open Air Festival – Clisson, France
Jul. 01 – Rock Fest Barcelona – Barcelona, Spain
Jul. 02 – Tuska Open Air – Helsinki, Finland
Jul. 22 – Hills Of Rock – Plovdiv, Bulgaria
Jul. 24 – Artmania Festival – Sibiu, Romania
Jul. 28 – Fezen Festival – Székesfehérvár, Hungary
Jul. 29 – Metaldays – Tolmin, Slovenia
Aug. 04 – Wacken Open Air – Wacken, Germany
Aug. 06 – Beyond The Gates – Bergen, Norway
Aug. 11 – Brutal Assault – Jaromer, Czech Republic
Aug. 13 – Bloodstock Open Air – Derbyshire, UK
Aug. 21 – Psycho Las Vegas – Las Vegas, NV